Gender diversity has become more and more critical to companies with each passing year, but according to the Pew Research Center, only 25% of computer occupations are performed by women. On top of that, many tech organizations aren't being criticized or credited for their gender ratios. Even while companies like Twitter have dedicated significant efforts toward closing the gender gap within their organizations.
To push the conversation on women in tech forward, we've compiled statistics through proprietary data, public company reporting, and government sources on one of the most in-demand roles in tech, the software engineer. Below you'll find the percentage of female software engineers in the U.S for 2022 and a summary of our findings for leaders looking to champion gender parity and relevant data to inform their diversity hiring initiatives.
If you want all the info — such as how long it takes for women to reach senior positions, the average career trajectory, representation in major cities, and full company comparisons, you can

read the full report here

.

What percentage of software engineers are female?
According to our AI-powered talent graph of 5M+ software engineers in North America, women account for 21% of software engineers in the U.S. Let's put that number into perspective.
The Pew Research Institute reports that women make up 50% of those employed in STEM jobs (Healthcare represents the majority of those roles) and 51% of the total U.S. population are women. Based on these statistics, women in software engineering are generally underrepresented by 30%.
When looking at enterprise-sized and small company data in our talent graph, we found they had a slightly better software engineer gender ratio. Both have 24% of their SWEs being women — 3% above the U.S. average. It appears that some larger companies leveraged their resources to create broad support initiatives and establish anti-bias procedures.
Meanwhile, small companies and startups were more likely to be more diverse at the outset, with CEOs or engineering leaders doing their own recruiting. As smaller companies hit their stride and look to grow their tech team, they should formalize their unbiased hiring procedures to avoid skewing their team to have more men over time.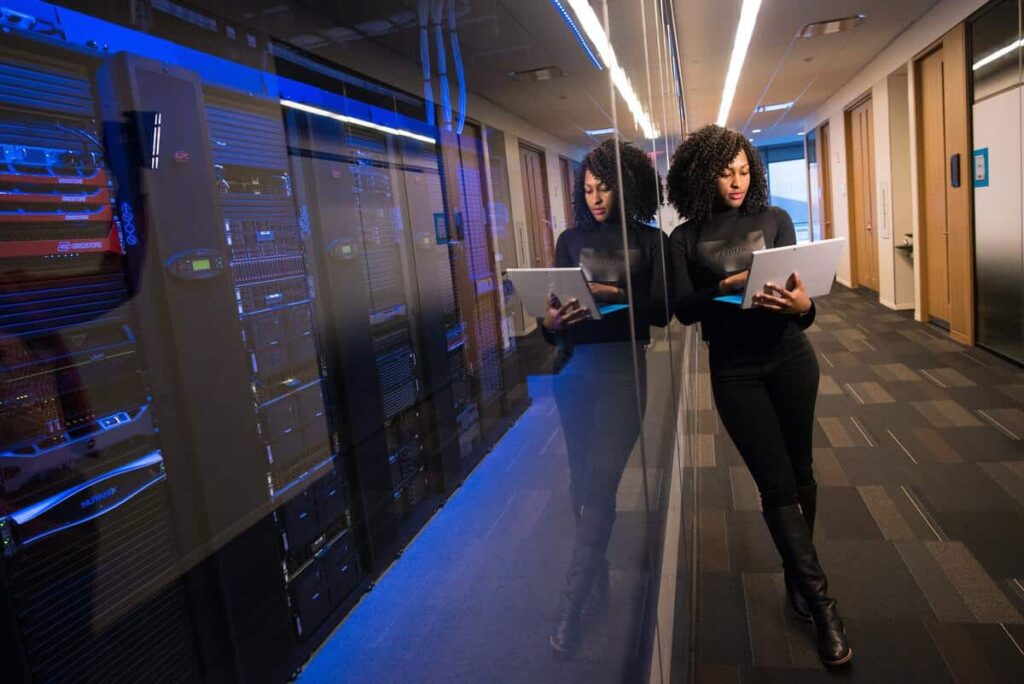 Why are there so few female software engineers?
There's no easy answer to why there are so few female software engineers — systemic problems tend to have multiple persistent issues that make them extremely difficult to root out. Some of the major factors include, but are not limited to, the following:
Mass remote work offerings in response to COVID-19 have been a double-edged sword for women in tech roles. Many companies have allowed flexible hours that can accommodate caretaking responsibilities, but a healthy balance between these responsibilities and work has yet to develop for the majority.
Millions of women left the workforce in 2020 and 2021 as they cared for family members who fell ill with COVID and put their kids through virtual learning. In an interview with US News, a former Google Executive Assistant, Naomi Peña, said: "I had to pivot." She lamented that the pandemic disrupted her children's lives and led her to suspend her career because she felt she was needed more at home than at work.
A vast majority of women who left the workforce like Naomi are still sitting out the job market recovery. They are searching for affordable child care, reassessing their careers, and shifting their work-life priorities.
Moving forward, keeping remote work options and flexible hours in place and providing specific benefits such as child-care reimbursement may help to encourage more women with irregular schedules to return or enter the tech workforce.
Startling Findings on the Software Engineering Gender Ratio
One glaring statistic that needs addressing is the absence of women in senior software engineering roles.
Women represent 23% of software engineers from entry-level roles all the way to Team Leads. But as soon as we analyzed our Talent Graph at the management level, the presence of women dropped to 17% and just 15% for women with Director or VP titles.
That's a 35% decrease from the individual contributor level to the Director or VP level.
Companies will find that promoting women who are good fits to senior management positions often come with significant benefits. Women in leadership roles are more likely to proactively support DEI efforts, and employees with women managers were more likely to say their manager supported them in career progression.
Most importantly, women in top roles act as role models for other women in the company which can increase retention as well as productivity.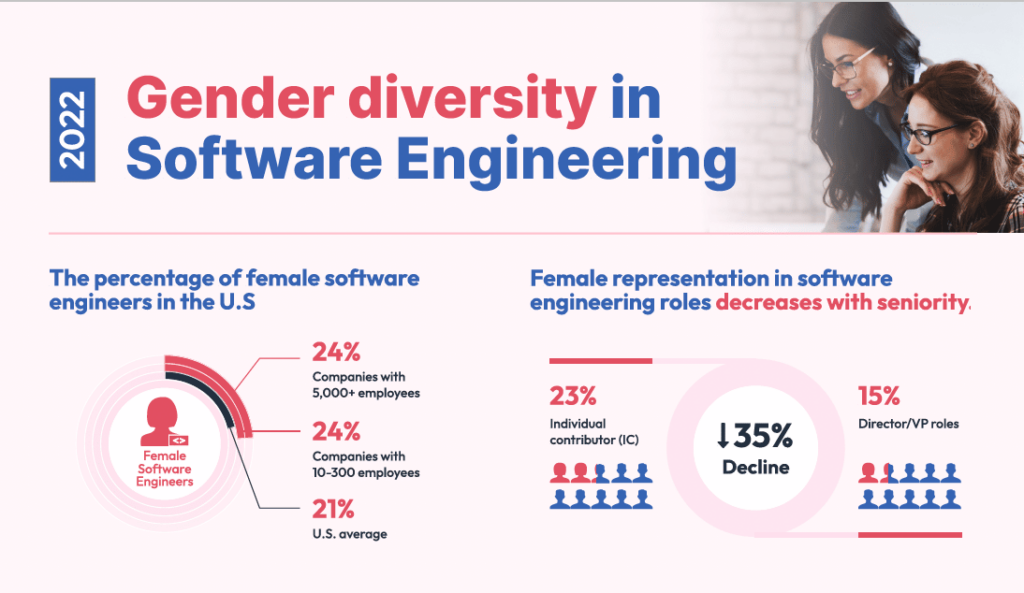 Why is gender diversity important in technology?
At the most basic level, it's been documented that diverse teams drive better business outcomes and have more effective leadership. Creating an inclusive, welcoming atmosphere for women is not only the equitable thing to do, it's beneficial for the bottom line.
Taking a big-picture view, having visibly successful women in software engineering roles will encourage other women to pursue a similar career path. This will build a stronger pipeline of women in STEM in earlier stages of education and over time, buoy the overall parity of the gender diversity ratio.
More representation will encourage more women to stay in tech, advance to more senior positions, and help put more inclusive goals and strategies in place at the top levels of companies.
At a moment when there is a significant shortage in tech talent, advancing gender diversity goals in the tech sector benefits the sustained health and growth of the industry as a whole.
Hope for closing the engineering gender gap
Despite these generally uninspiring statistics, there are positive developments being shown at some of the top U.S. tech companies. These companies are demonstrating the impact that diversity programs can have on the percentage of female software engineers in the workforce.
Twitter publicized its diversity hiring goals in 2015 and has continued to update its progress quarterly, offering employees a tangible commitment to equity while also opening the company to external accountability and critique. This kind of transparency, particularly from industry-leading companies, goes a long way toward setting an example for other tech organizations.
As a result, we see Twitter near the top of the pack in female representation at all seniority levels in technical roles among enterprise tech companies. Conversely, much larger-sized companies like Apple or Meta which lack Twitter's public commitments or diversity hiring practices are consistently at the bottom of the results that we collected from our Talent Graph.
Millennials and Gen Z'ers are known for applying to and supporting companies that promote and act on inclusive values — and publicly outing companies that don't. Having gender diversity hiring goals is an increasingly valuable move to attract future workers. Companies that choose not to implement inclusion programs will struggle to find talent later down the road.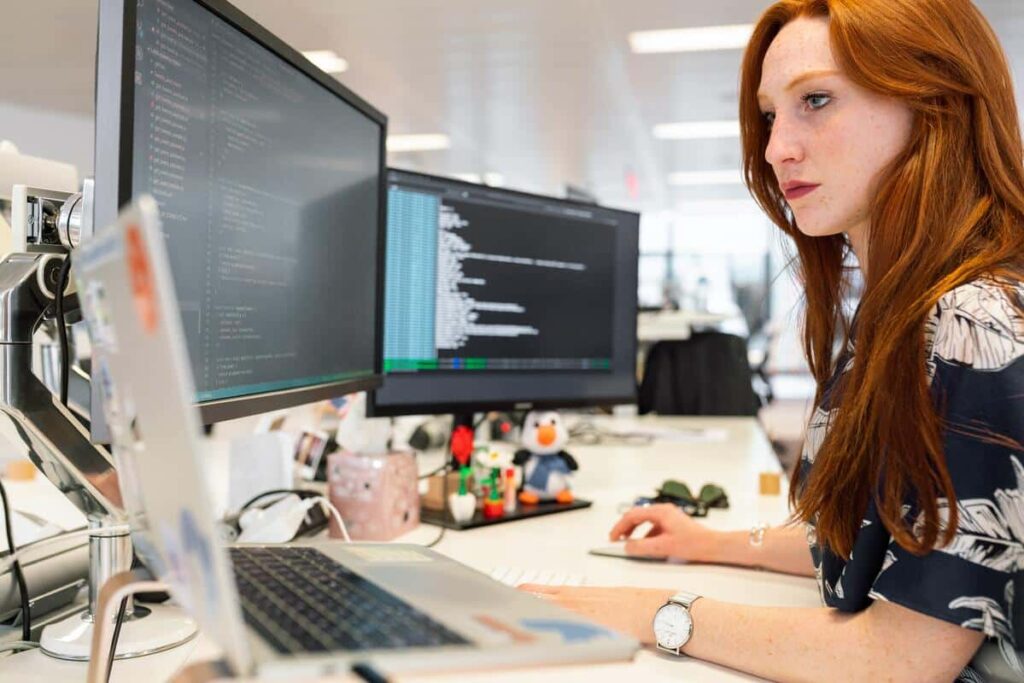 We hope we were able to give you context and resources for improving your diversity hiring efforts. You can find more data on Silicon Valley software engineers here, the best diversity sourcing tools for tech talent here, and strategies for hiring diverse candidates here.  

If you're looking to add more women to your engineering team, we can help. Schedule a call with us today!
---
Research, writing, and editing for this piece were contributed by Mark Gregory, Christopher Nelson, and Lauren Dixon.