Silicon Valley is known across the world as a software development paradise. And if you believe what you see on TV, then every second home is an "incubator" helping build the next unicorn. But how much truth is there in that image and exactly how many silicon valley engineers are there today? And who are they?
If you are looking for the answer to the questions then please continue below, but if you want to know how you can get these developers in a meeting to interview, schedule a call with one of our product specialists and see how AI recruiting technology can help fill your candidate pipeline.

What do we know about Bay Area engineering talent?
Everyone knows that Silicon Valley has the best — and most — software engineering talent. Our neighborhood is a place that draws skilled software workers from all over the world.
With the tech sector booming as it is and many startup companies chasing IPO, the demand for top product talent is truly sky-high. Hiring is critical and can mark the difference between Silicon Valley success stories and your organization becoming just another statistic.
With a talent pool of 15M+ software engineers in North America, Latin America and India from our proprietary AI-powered talent graph, we understand each person deeply. We can uncover hidden truths about any talent sector and deliver quantitative breakdowns concerning age, experience, educational background, career path, and so much more.
Digging into our talent graph to quantify Silicon Valley's software engineering landscape, it was my intention to help you — as a business owner, engineering leader, or recruitment professional — make better, more strategic hiring decisions. So let's see what we found out.
6 facts about software engineering talent in Silicon Valley
Below is just a taster of the insights we gathered, you can read the rest in our full, downloadable report.
1. There are 341k software engineers in the San Francisco Bay Area
Our AI-powered recruitment mapping identified a lot of engineering talent here in Silicon Valley — no surprises there, really.
What is interesting, though, is that when compiling their shared average salaries — between $130-155k — this quantity of engineering roles amounts to a staggering 44.5 – 52.9 billion dollar spend each year. That's more than double NASA's annual budget.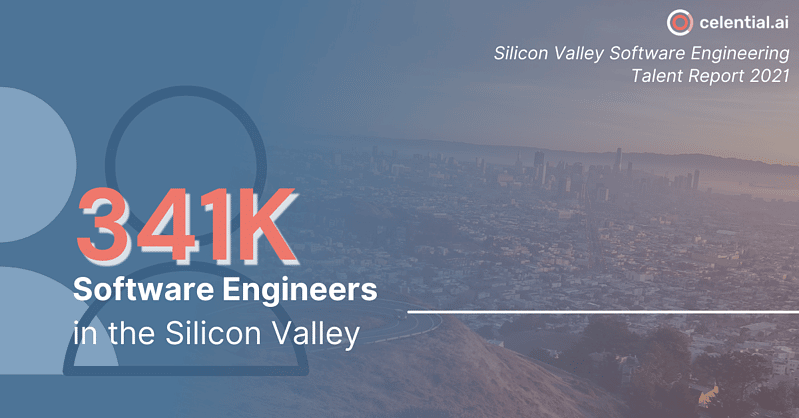 2. Backend engineers make up the majority of the talent pool at 37.7%
Most software engineers have titles like "senior software engineer", "staff engineer", "software architect" and so on. But when hiring for a specific opening, companies want candidates with a particular role type (backend, frontend, etc).
To get more clarity on their experience and interests, recruiters would have to ask around and spend time digging through their online profiles. For us, it is a matter of a few clicks. So how do we know who is a backend engineer (or another role type)? Our talent graph makes accurate inferences based on information available on the candidate, the companies they worked at, and the talent market overall.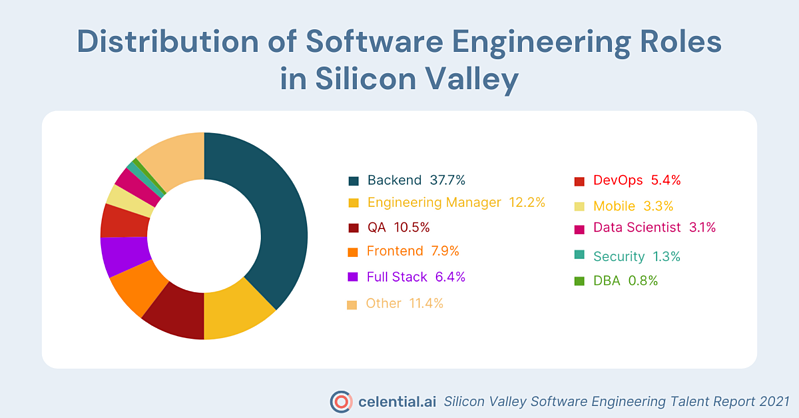 3. Almost one-third of software engineers have 4 years of experience or less
Some people may be surprised to learn how new-to-the-scene Silicon Valley's engineering talent actually is. While one-third of engineers have 4 years of experience or less, well over half have been working in the industry for no more than 9 years!
I think this is really exciting. It means new ideas, fresh perspectives, and increased energy where we need it most. But it also poses a recruitment challenge for talent acquisition teams working in this space, as candidates may not have a long and detailed job history with which to assess their skills.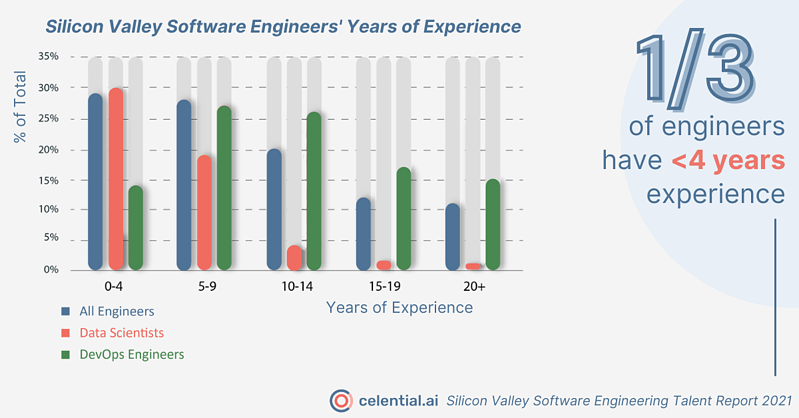 4. A software engineer stays in their first job for 2 years and 9 months on average
A software engineer's job tenure might surprise you too. On average, engineers spent 2 years and 9 months in their first role and 6 months less in their second.
What does this mean for talent acquisition teams on the search for passive engineering candidates? According to our data, you could approach individuals at around the 2.5-year mark for junior roles and around the 2-year mark for more senior hires. With the insights on tenure, you can also proactively plan for employee retention and sustainable team growth.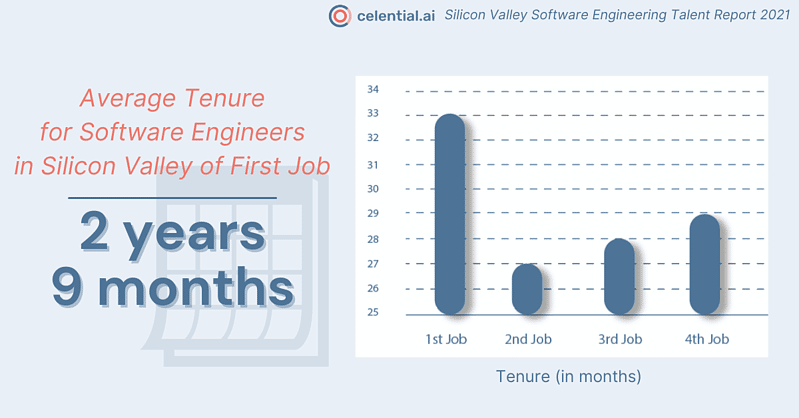 5. Almost 10% of software engineers are making it without a college degree
Silicon Valley has a perception of being a Mecca for hackers and dreamers, many of who are college drop-outs or have never even gone to college. At the same time, everyone is chasing Stanford and Berkeley-educated engineers. So can one make it in tech as a software engineer without a college degree? The answer is yes – 8% of the Bay Area's engineering candidates never got a college degree.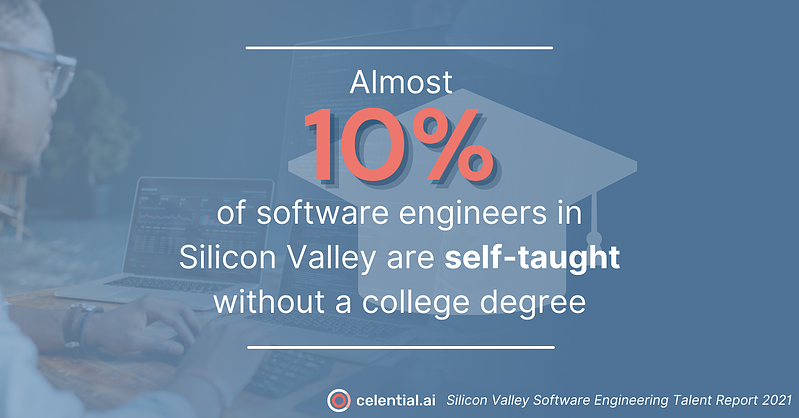 6. The Bay Area is a melting pot for international education
We mentioned at the outset that Celential can help startups recruit diverse talent, and this finding goes some way to explain how diverse Silicon Valley is today.
Almost 50% of the Bay Area's engineers completed their undergraduate studies abroad. Interestingly, the most common international educations come from India — Jawaharlal Nehru Technological University and the University of Mumbai, specifically.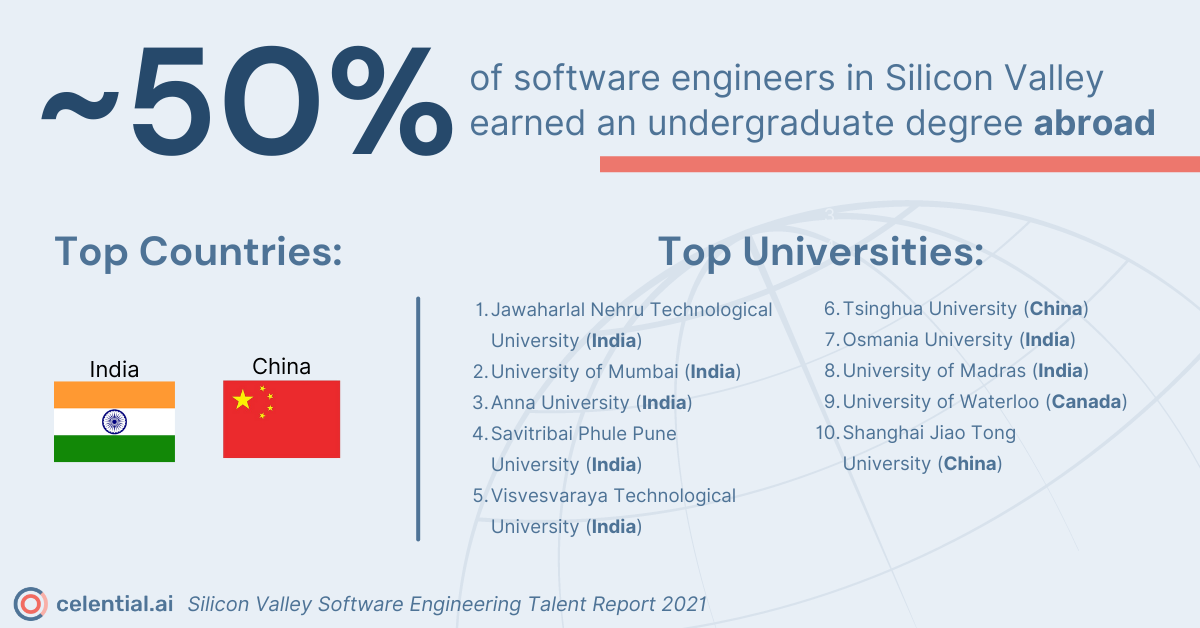 We'll help you find the right talent for your teams.
Have these insights piqued your interest? Then check out the full report on our website. In it, we share like-for-like comparisons of average base salaries, median tenures, average years of experience, and more, for a full range of engineering roles.
About the author:
Ilias Beshimov is a Co-Founder at Celential.ai and led the development of the 2021 Silicon Valley Software Engineering Talent Report. Prior to Celential.ai, Ilias led multiple teams across product and growth, most recently having served as Head of Product and Growth at Good&Co. Ilias also held product leadership roles at Scopely and Zynga and received his Bachelor's from Harvard.