It's been a challenging year for tech talent, as economic fears have prompted Silicon Valley companies to slow hiring and lay off employees. Amid the uncertainty and slump in venture capital funding, workforce cuts have even impacted Software Engineers — some of Silicon Valley's most integral and sought-after talent.
Despite the turmoil, the future for tech talent looks bright. Laid-off talent are quickly being rehired inside and outside the tech industry. New startups are popping up everywhere. And, the disruptive potential of AI means that tech talent will be in-demand across all industries.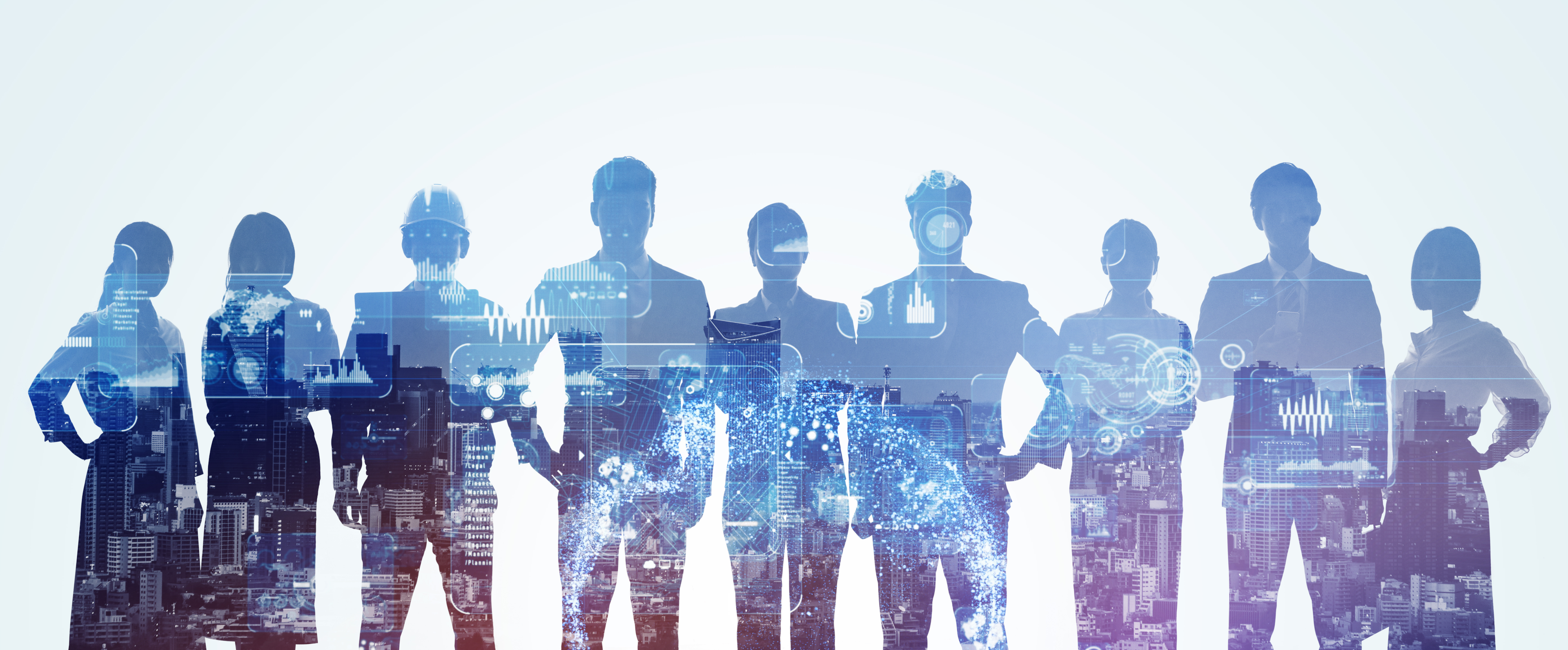 In the meantime, one major challenge for those looking to hire tech workers has been the continued speed of workforce change. Hiring teams need up-to-date information more than ever in order to successfully fill one of these competitive roles.
That's why our team at Celential did a deep dive into the software engineering talent pool and found some actionable insights to plan your headcount, inform your hiring strategy, and make solid hiring decisions.
What is the current state of Bay Area engineering talent?
Everyone knows that Silicon Valley has the best — and most — software engineering talent. Our neighborhood draws skilled software workers from all over the world.
But when it comes to the details, finding the data you need is no easy feat. If you're a recruiter or engineering leader looking to make a hire, you might be asking questions like:
How many Silicon Valley Engineers are there? How many are Backend Engineers?
How often does a DevOps Engineer switch jobs?
Are there more, or fewer Data Scientists this year than last?
How have compensation expectations evolved over the past years?
Using our proprietary AI-powered talent graph of 10M+ Software Engineers in North America and state-of-the-art Deep Learning methods, we can find the answer to these questions and many more.
With this exclusive data, we hope to help you make better, more strategic hiring decisions as a business owner, engineering leader, or recruitment professional. So let's see what we found out.
6 Facts about software engineering talent in Silicon Valley
Here are just a few of the insights into software engineering talent we found — for the rest, you can check out the full 2023 Silicon Valley Talent Report.

1. There are 478k Software Engineers in the San Francisco Bay Area
A massive amount of engineering talent are Silicon Valley residents — that's not a surprise. This includes all Engineers in the San Francisco Bay Area (covering San Francisco County, the San Jose Metropolitan area, San Mateo County, Santa Clara County, Alameda County, and Contra Costa County).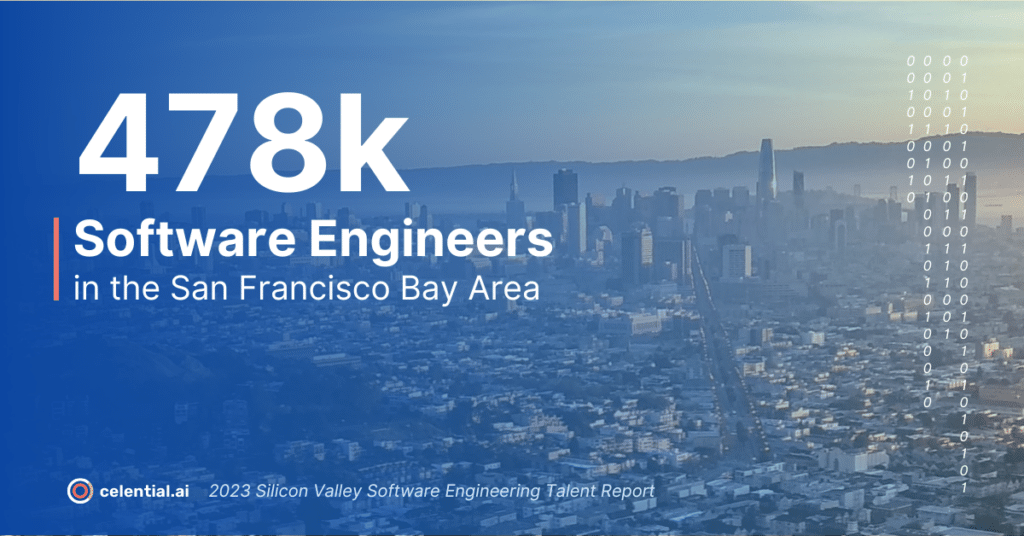 When compiling their average base salaries — between $105-188k depending on role — this quantity of engineering roles amounts to a staggering 50.2 – 89.9 billion dollar spend each year. That's more than double NASA's annual budget.
Our talent graph of over 10 million Software Engineers across North America allowed us to get a lot more granular regarding these 478,000 Engineers and break this data down into specific roles such as Full Stack Engineer or Data Scientist.
How is it done? Our AI talent graph can accurately identify an Engineer's role based on data points such as projects they have worked on, online communities they have participated in, tech companies they've worked for, and profiles of their colleagues. The billions of data points it has ingested are then aggregated by advanced deep learning models to create a detailed picture of the talent pool.
Here's what the role breakdown looks like.
2. Backend engineers are the largest category of Software Engineers at 36%
Here's the distribution of software engineering roles in Silicon Valley — Backend Engineers top the list with 176,000 located in Silicon Valley.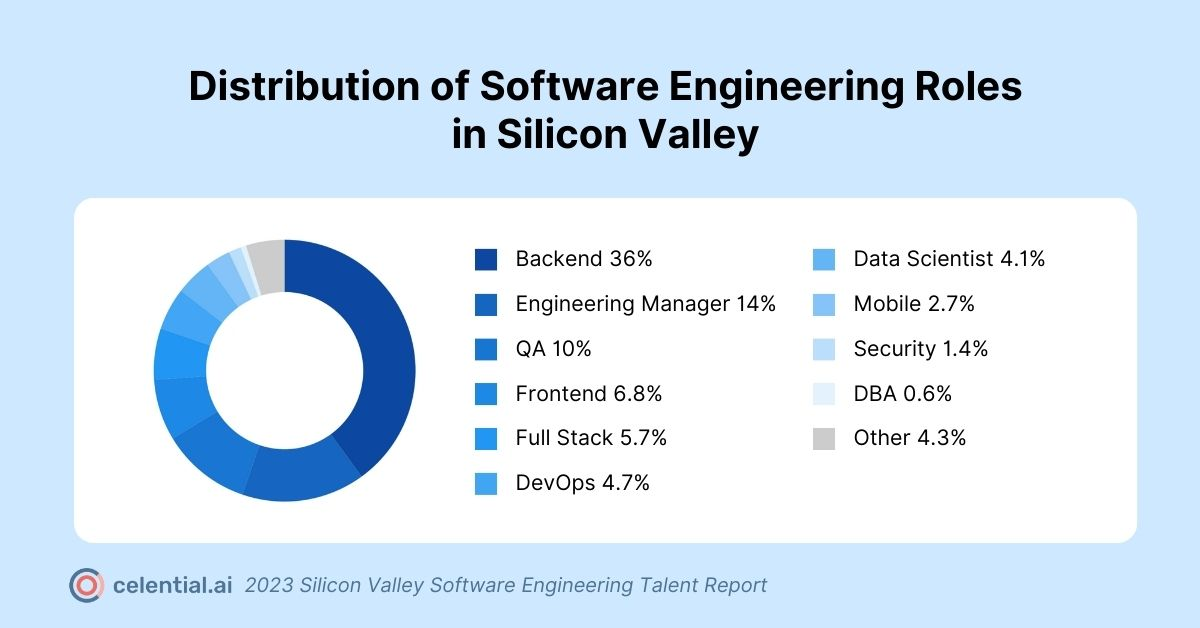 Backend Engineers work on the server-side logic of the application, or the part that underlies the web app or software invisible to the user. This is far and away the most popular specialization for Software Engineers — and perhaps it's unsurprising when you consider the impact of their work and the prestige that comes with it.
We observed some changes from the previous year.
The Security Engineer talent pool grew 8% from last year
As the World Economic Forum recently named the critical cybersecurity skills shortage a global problem, the demand for Security Engineers has prompted new talent to enter this fast-growing field.
The increase may signal good news for tech companies — and with cyberattacks currently amounting to $10.5 trillion in damage annually, new talent can't come soon enough.
The number of Database Administrators shrank 8% from last year
The most significant Silicon Valley talent pool decrease we observed over the past year was a drop in Database Administrators.
With the move to the cloud and increased focus on automation and IT operations, the Database Administrator role is less common than in earlier years.
Many of today's DBAs are leveling up their skills to include more coding and infrastructure — or making use of tools to automate these tasks. And today, this work may also be covered by Backend, Infrastructure, or DevOps Engineers.
Advice for recruiting teams at Silicon Valley companies
What separates a good recruiter from a great recruiter? Great recruiters partner with hiring managers to help them make good decisions about whom to target and recruiting strategy.
Coming in with market research and data, particularly on the talent pool, is a major plus. This information can help set expectations, determine must-haves versus nice-to-haves, and build the recruiter's credibility as a market expert and advisor.
3. Fresh talent is hitting the scene — especially Data Science
Some people may be surprised to learn how new-to-the-scene Silicon Valley's engineering talent actually is. While one-third of Software Engineers have 4 years of experience or less, well over half have been working in the tech sector for no more than 9 years!
It means new ideas, fresh perspectives, and increased energy where we need it most. But it also poses a recruitment challenge for talent acquisition teams working in this space, as finding experienced technical talent can be difficult.
Data Scientists had the lowest years of experience range
Among the most common roles and specializations, Data Scientists tended to be the newest to the field in Silicon Valley.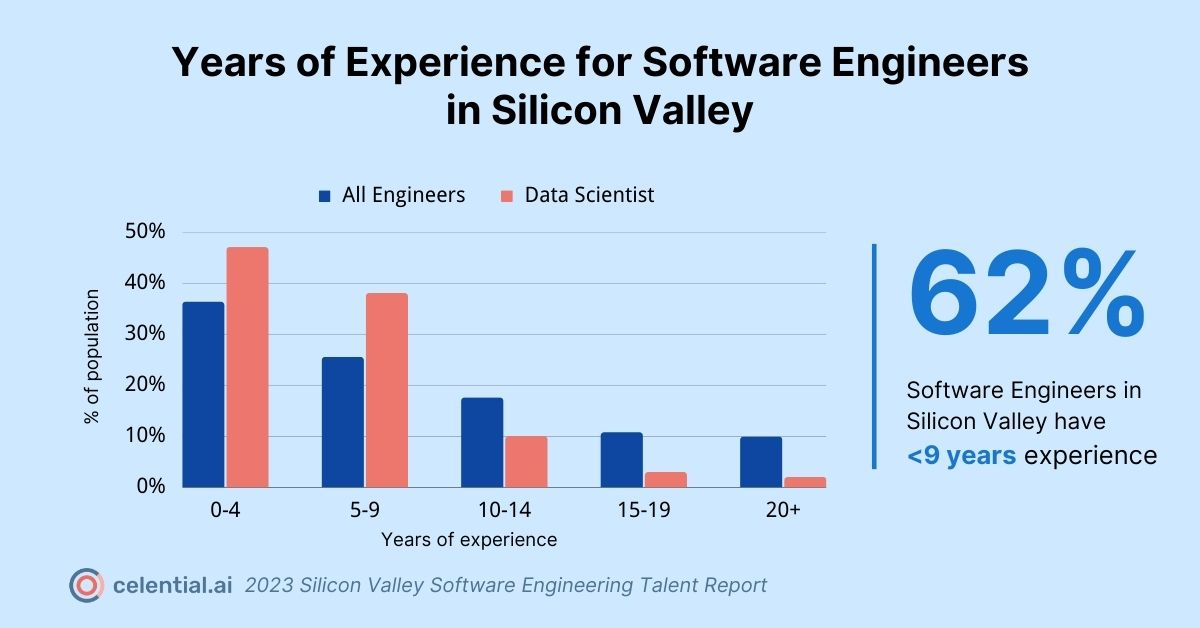 42% of Data Scientists had less than 4 years of experience, whereas 85% had less than 9 years of experience. In comparison, 37% of Software Engineers had less than 4 years of experience, and 62% had less than 9 years.
Some reasons why Data Scientists tend to be new in the field include the increasing popularity of the field, high salaries attracting new graduates and career transitioners, and the fact that the field and title themselves are relatively new.
Here are some data-driven tips for hiring teams seeking candidates for an in-demand role such as Data Scientist.
Adjust the years of experience.
If you're looking for a Data Scientist with 4-6 years of experience, widening the range to 3-8 years will add many more skilled candidates to your talent pool.
Iterate on messaging.
If you try outreach messaging version A and version B, and version B performs 20% better, that translates to huge productivity gains over a month of outreach.
Examine your process to identify bottlenecks.
If 30% of candidates disappear when you request a resume before an intro call, you might try moving the ask to later, to minimize the chances of losing great candidates.
Use an objective evaluation.
If you use a Data Science skills test or take-home problem to generate a consistent and comparable performance metric, it will be much easier to identify top-skilled candidates.
4. A Software Engineer stays in their first job for 2 years and 9 months on average
A Software Engineer's job tenure might surprise you too. On average, Silicon Valley Engineers spent 2 years and 9 months in their first role and 6 months less in their second. Furthermore, this data has stayed consistent over the past two years — suggesting that the changes occasioned by the Great Resignation aren't going anywhere anytime soon.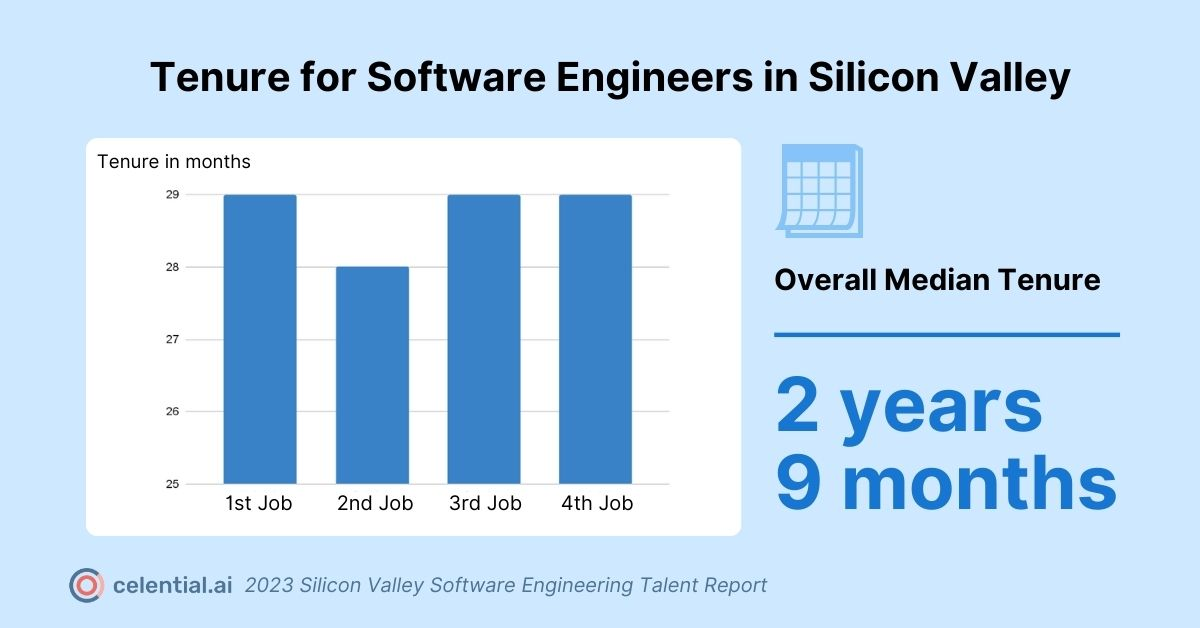 What does this mean for talent acquisition teams on the search for passive engineering candidates?
According to our data, you could approach individuals when they have spent around 2 to 2.5 years in their current role. At that time, they might be more likely to make a move.
With these insights on tenure, you can also proactively plan for employee retention and sustainable team growth.
5. More than 10% of Software Engineers make it at tech companies without a college degree
Silicon Valley has a perception of being a Mecca for hackers and dreamers, many of who are college drop-outs or have never even gone to college. At the same time, every tech company is chasing Stanford and Berkeley-educated Engineers. So can one make it in tech as a Software Engineer without a college degree?
The answer is yes – 11% of Silicon Valley's engineering candidates never obtained a college degree.
The other fact that might surprise you is that out of those Software Engineers who did earn a Bachelor's Degree, just over half majored in Computer Science.
That means a slight majority of working Software Engineers do not possess a Bachelor's degree in Computer Science (53%).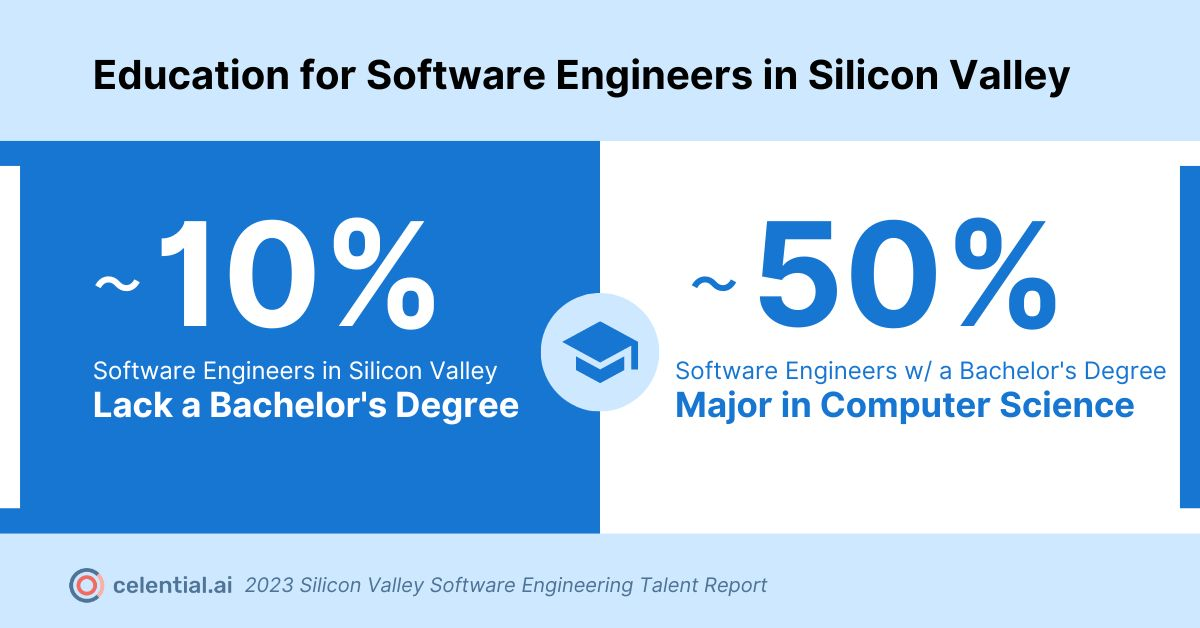 Hiring teams who are struggling to find enough engineering candidates to hire can consider:
Relaxing degree requirements and hiring based on skill — it is five times more predictive of future performance than education.
Casting a wide net on social networks, career sites, and developer communities such as GitHub and Stack Overflow to connect with nontraditional and diverse potential tech employees.
Creating pathways for nontraditional candidates to fill tech jobs— some ideas include establishing returnships, considering boomerang employees, and prioritizing internal mobility.
6. Average compensation ranges between $105-188k
Over the past year, already eye-wateringly high Software Engineer salaries increased 4% further. That's almost four times as much as the salary increase of 1.2% across the board for American workers!
The lowest-paid common engineering role we found was Database Administrator, and the highest was Engineering Manager.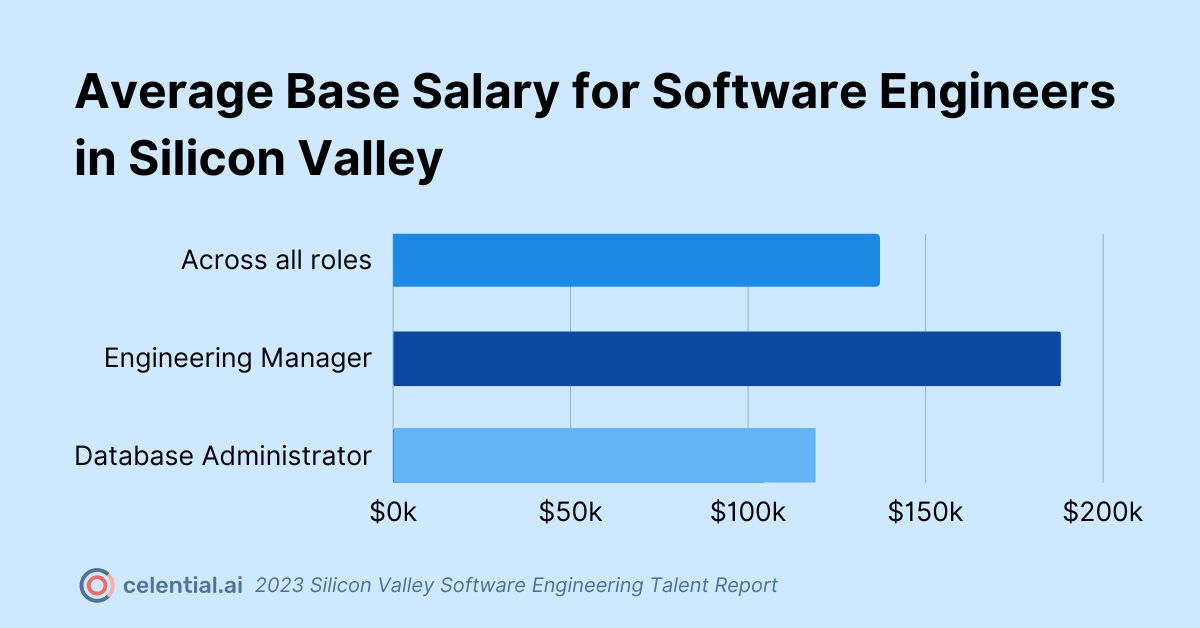 Based on these trends, it is clear that software engineering compensation isn't going to go down anytime soon.
"The biggest mistake I've seen in this market is to lowball a great candidate because you think the market has shifted," said Samantha Perlman, Head of Talent at OneSignal.
With the hefty cost of recruiting and interviewing, the outsized impact a great Software Engineer can have on your product, and the employer brand boost delivered by strong candidate experience, it's worth researching and delivering a fair market offer.
One tip is to present offers in a customized slide deck. You can include their name, picture, and options to choose from when it comes to the salary/equity split — maximizing the possibility of the candidate seeing an offer they can accept.
Have these insights piqued your interest? Then check out the full report on our website. In it, we share like-for-like comparisons of average base salaries, median tenures, average years of experience, and more, for a full range of engineering roles.

If your team is currently hiring Software Engineers, AI solutions can help. Using ML models custom-built for tech recruiting, Celential provides skilled tech candidates for your roles — freeing you up to close more hires with fewer resources.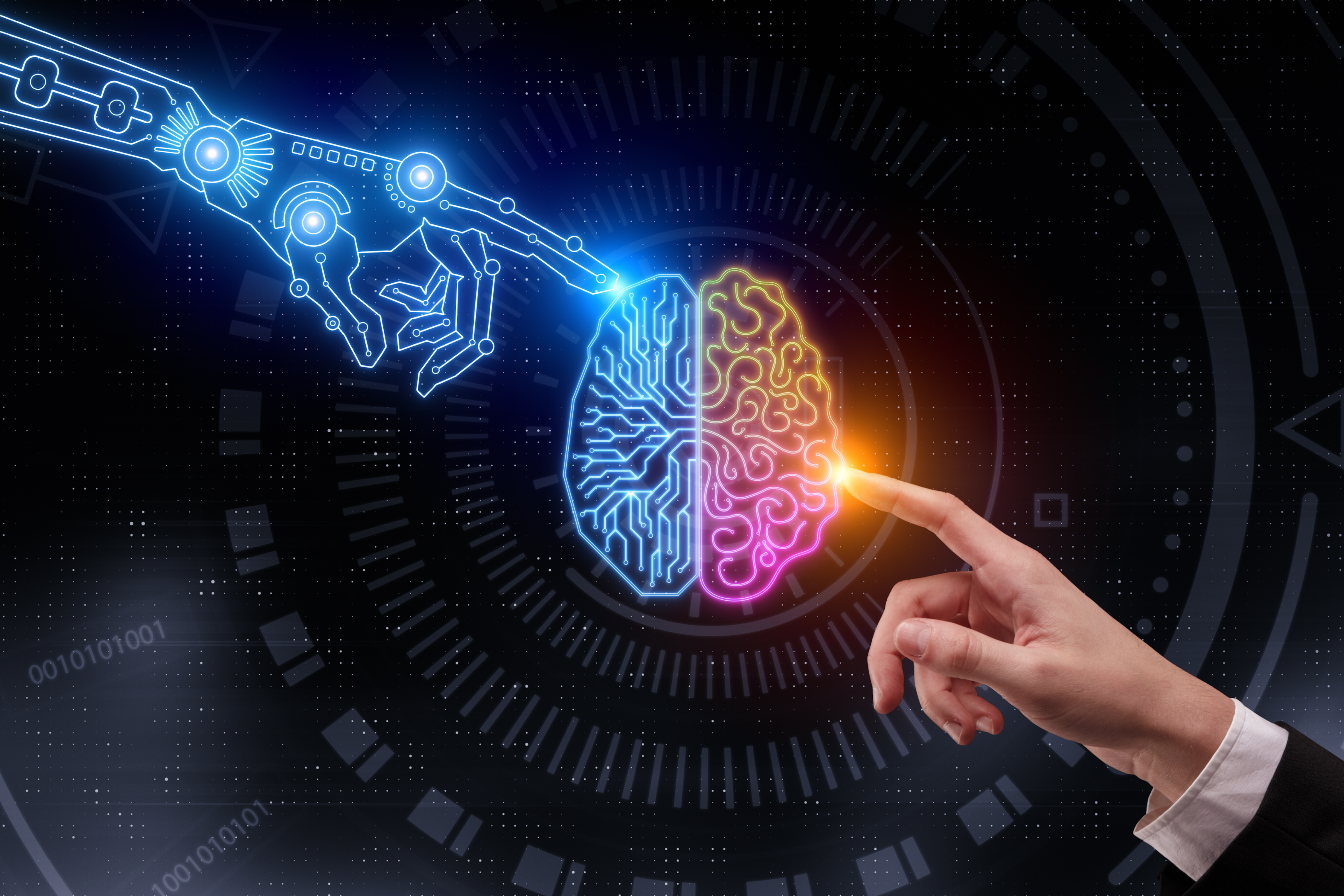 We offer:
Warm, qualified talent ready for interviews in just three days on average
Coverage of specialized engineering, product, and software sales talent: including Backend Engineer, Fullstack Engineer, Frontend Engineer, Data Engineer, ML Engineer, DevOps Engineer, Data Scientist, Tech Leads, Architects, Managers, and many more.
Instant flexibility to scale up and down your recruitment efforts as your hiring needs, role priorities, and budget shift during these uncertain economic times
Book a demo to find out how to receive a strong pipeline of candidates through AI.