Despite hiring slowing somewhat in September, the economy continued to add hundreds of thousands of jobs last month — for the 21st month in a row.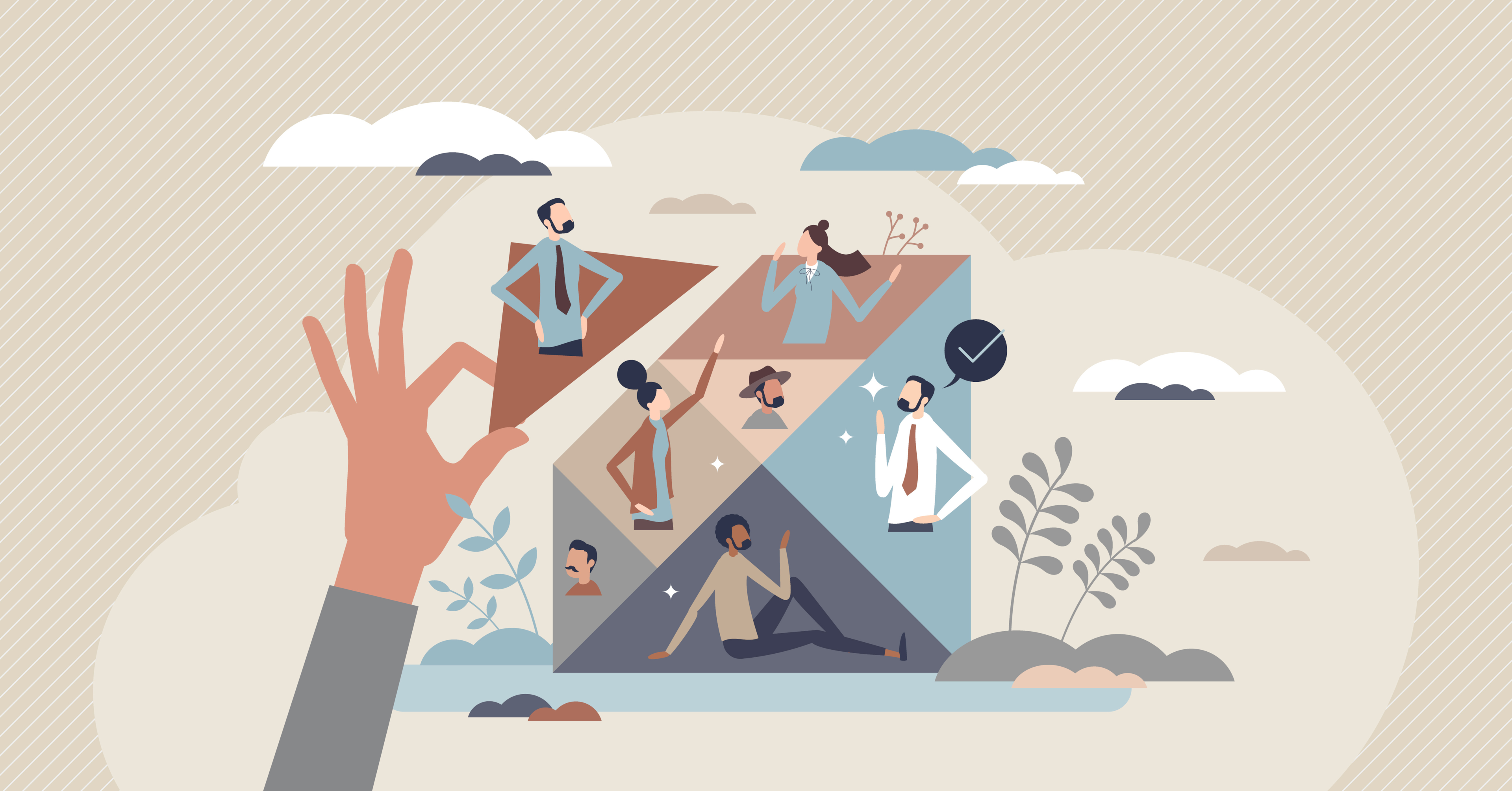 Though the labor market remains overall strong, Talent Acquisition has been beset by significant challenges recently, from layoffs to the continued Great Resignation to budget cuts.
These uncertain economic conditions present an opportunity for TA teams in Q4 to devote some effort to revamping their sourcing processes to be more thoughtful, systematic, and data-driven.
That's true whether you're a fast-growing startup looking to take advantage of the shakeup to hire top talent, or whether your company has paused hiring and you're looking to make the most of the lull.
Solid processes and strategies will allow recruiters to create more value and set your team up for success once hiring inevitably roars back.
What is a talent sourcing strategy template?
Talent sourcing is about proactively finding and engaging potential candidates to fill open roles at your company. Sourcing involves reaching out to passive candidates (those who are not already looking), rather than waiting for active candidates to come to submit an application.
A well-crafted talent sourcing strategy will help you:
Get candidates interested in your opportunity
Build a solid and consistent pipeline of qualified candidates
Measure results and identify areas to improve
Communicate the value your TA team is delivering to your organization
You can start crafting your strategy (or troubleshooting your current process) by filling out a talent-sourcing strategy template with your own organization's details.

What should sourcing strategies include? Great Talent Sourcing in 5 Steps
We've broken the talent sourcing process into five steps with tips and templates. Each step has concrete actions, metrics, and strategies to help you source more effectively and assess the results of your efforts to improve your plan moving forward.
Step 1: Define Strategic Goals
"The trouble with not having a goal is that you can spend your life running up and down the field and never score." –Bill Copeland
Conversely, knowing exactly what you're attempting to accomplish is the first step toward talent acquisition success.
In this first stage, you should:
Write down your concrete goals (with metrics and timeline)
Plan your budget for each step of the talent sourcing process
Assign roles and responsibilities
Block off time in each hiring manager's calendar for interviews and schedule regular check-ins for feedback and communication
Strategic Talent Sourcing Plan Template:
GOAL
Time Period 1
Time Period 2
Time Period 3
Targeted # of Warm Candidates for Role 1
25 Data Scientists/month
25 Data
Scientists/month
15 Data Scientists/month
Actual # of Warm Candidates for Role 1
Targeted # of Hires for Role 1


Actual # of Hires for Role 1


BUDGET
Sourcer Salaries


Sourcing tools and technologies


Candidate database / job site subscriptions


Applicant tracking system


Step 2: Understand Each Role
You can start by building a candidate persona (an imagined representation of the ideal candidate) for each role.
Crafting a candidate persona can help you understand who you're searching for, their motivations, and how you can best shape your messaging and pitching to pique their interest.
Candidate Persona Template
| | |
| --- | --- |
| Persona name: [Chris Thomas] | Job Title: [Data Scientist] |
| Education: [MIT, Berkeley, Stanford, Carnegie Mellon, Georgia Tech] | Company Experience: [Pinterest, Uber, Twitter, Slack, Airbnb] |
| Years of Work Experience: [5-7] | Skills: [Python, NumPy, SciPy, TensorFlow, Keras, PyTorch] |
| Salary Range: [130-160,000] | Pain Points: [Whiteboard tests make him nervous, He doesn't have time for endless rounds of interviews, he's reluctant to change jobs too frequently] |
| Values: [Working on a diverse team, work-life balance, green energy] | Goals: [Wants to become a manager in the next few years, take increasing ownership of projects, expand his skillset] |
Tip: Collaborate with your hiring manager
It's the technical recruiter's job to deeply understand a hiring manager's preferences and requirements for a role.
However, the recruiter's input is equally important — as they are the experts on the talent realistically available on the market and how to craft a set of requirements likely to produce successful hires.
The best way to wow a hiring manager is to come into the kickoff call prepared, having:
Read and understood the job description(s)
Prepared a list of questions to clarify any ambiguities — such as ideal seniority level, must-haves versus nice-to-haves, substitutable skills, visa status, etc.
An estimate of how many candidates are in your talent pool
Updated market compensation data for the role(s)
Prepared either a candidate persona or a calibration profile (a list of 4-7 real profiles you've already sourced) ready for feedback from and discussion with the hiring manager (template included below).
And don't forget to keep asking for regular feedback throughout the hiring process to ensure you're still on the same page. Our recent interview with recruiting giant Mike Wolford has more tips on building influence and effectively collaborating with hiring managers.
Calibration Profile Template:
Potential Candidate Names
Social Media Links
Education
Relevant Work Experience
Relevant Tech Skills
Name #1
facebook.com/candidate
twitter.com/candidate
Computer Science BS (UCLA) (2018)
Software Engineer @ Twitter (2018-)
Python, Java, React, Angular, Javascript
Name #2
Name #3
Name #4
Name #5
Step 3: Talent Pool Identification
While it can still be worth posting open roles on job boards and your careers page, most of your tech hires will likely come from a proactive search.
That's because a full 98% of job seekers are eliminated at the resume screen stage. Conversely, when doing your talent sourcing, you control your candidate quality. And while most of the candidates you source may not be actively looking, 85% of the workforce is open to considering a new opportunity.
Here are the sourcing channels to consider:
Candidate Databases
A subscription to an online job board and or career websites such as LinkedIn, Indeed, and Monster will allow you to search their database of job seekers, profiles, and resumes. Though subscriptions can be pricey, you'll have access to a larger pool of qualified candidates to search.
Social Media
90% of Americans use social media sites like Twitter, Facebook, and Instagram, spending over 2 hours per day on average. And most Americans have found a job through social media, as well.
Recruiters can use Boolean search to rapidly sift through profiles and user groups to find candidates to contact.
Freelancer platforms
If you need the flexibility to scale your team up and down, engaging a freelancer from a platform like Toptal or Upwork might suit your needs. Advantages include reduced legal complexity and lower upfront costs, though hourly rates can be high for freelancers.
Industry Events
Industry conferences and events attended by the people you'd like to hire can be great places to network and source candidates. Better yet, by going offline, you don't have to compete with every employer on the globe — and candidates will be more likely to reply to your messages if they've met you in person.
Creative Talent Pools
It can also be worth being creative and targeting the online spaces where your potential candidates hang out.
Source: ideal.com
For example, you might consider hosting a competition on Kaggle, an open-source data and ML community, or TopCoder, a coding crowdsourcing site.
You can find techies in their natural habitat on sites like GitHub, far and away the most popular place for maintaining code, and Stack Overflow, another popular gathering spot for discussing all things tech.
Referrals
85% of jobs are filled through networking, and recommendations by your colleagues or contacts can be pure gold. Top passive candidates often know other top talents in the field, and referrals help forge strong, immediate connections between potential employees and employers.
To get the best and largest volume of recommendations (up to 10 times your current network), consider involving regular tech employees in your interview process. You can also show appreciation for employee referrals by offering incentives through a rewards program.
Tip: How do you source more candidates? AI talent sourcing tools
Tech recruiters can regularly spend 30 hours — over half their workweek — on sourcing candidates.

Automated solutions can help with job posting management, resume screening, candidate outreach, and more, eliminating manual, repetitive work.

And for tough, time-consuming tech roles that require specialized skill sets, you might consider a service like Celential.ai. Thanks to cutting-edge AI and ML, we deliver warm, engaged tech talent in just three days — freeing your team to focus on the meaningful, rewarding work of engaging and closing tech talent.
Talent Sourcing Strategy Template: Checklist
Source
Cost per period
Number of candidates
sourced per period
Careers Page
$15/month
4 screenable candidates
Job Posting: Site #1
Job Posting: Site #2
Candidate Database #1
Candidate Database #2
Social Media #1
Social Media #2
Industry Event #1
Industry Event #2
Tech Site #1
Tech Site #2
Referrals
Step 4: Reach out to Candidates
Recruiters, and particularly tech recruiters, have acquired an unfortunate reputation for inundating candidates with a never-ending flood of non-targeted and irrelevant messages.
Source: digitalmomblog.com
However, we've found that by writing messages candidates actually want to read, you can boost your cold outreach reply rate from the industry average of 5-8% to 30%+. Here's how you do it.
Subject Line
If your candidate doesn't open your email, they will be impervious to your persuasive and well-crafted messaging pitch.
Successful recruiters start pitching right away. Examples of effective pitch points to include in the subject line are:
remote work
exceptional funding
backing by top VCs
a trendy domain (such as green energy or fintech)
the use of exciting new technologies or particular skills
unique benefits
rapid growth
media attention
big tech "name" customers.

Sample subject line: Remote Tech Lead Role at A16z-backed Fintech startup (new Series B)
Personalization
If you can convince a potential candidate that your job opportunity and company culture are aligned with their values and goals, you can win over a big name or large paycheck almost every time.
Craft a personalized story to wow your candidate by referencing skills and experiences they have relevant to the position, how the position fits in with their career growth trajectory, and common background they share with your teams such as education and work history.
Passive Candidate Reachout Template: Ultimate Edition
To make it easy, here is a template we've put together that we've used to source and hire real engineering candidates. You can plug in your company pitch and candidate background details to supercharge your reply rates.
Subject Line
Remote BDR at hypergrowth innovative AI recruiting startup
Greeting
Hi [Candidate First Name],
Self-Intro
Hope you are staying healthy. I'm [Name, Role, Company Name].
Company Pitch
We are a rapidly accelerating recruiting startup with a talent graph of all product and engineering talent in the US, Canada, Latin America and India, which is then combined with a matching algorithm to identify the best candidates. We then use NLP AI to engage these candidates in a highly personalized way automatically.
Our customers only need to sit back and receive a pipeline of highly qualified AI-matched candidates who want to interview.
Opportunity Narrative
We're doubling revenue every quarter and expanding the GTM team quickly. Having scaled up our closing team, we are now looking to add a stellar team of BDRs to be our future closers. Our goal is to create a path for the first BDRs we hire to grow to an AE role by [timeframe]. With our product-market fit, velocity sales cycle, and insane demand we're seeing, we are looking to build a team of capable and ambitious BDRs to be our future sales leaders.
Personalized Pitch
I see that you're about to finish your first year at [Company Name] and thought you might not mind taking a look when something exciting like our team comes along. With your strong sales record at [Company Name], success driving revenue at both a large enterprise like [Company Name] and at high growth startups (not to mention your B2B SaaS and recruiting domain experience) you'd be a great addition to Celential.ai.
Call to Action
Up for a quick chat? I'd love to connect over a brief conversation and explore whether this role might be the right fit for you.
This passive candidate email template works by using the subject line to start pitching right away. Then, you build a narrative to draw the candidate into the company's vision and explain what value they would be adding and what the team/role is offering to them.
Here are more of our favorite candidate outreach templates.
Follow Up:
Don't forget to follow up!
According to our data, about two-thirds of our candidate replies come from follow-up emails.
We find that spacing emails 2-4 days apart is optimal to strike the balance of seeming very interested but not overly aggressive — and sticking to 2-3 follow-ups total is ideal to avoid alienating candidates whom you might like to contact in the future.
Step 5: Gather data, monitor, and iterate
Now that the sourcing team has engaged a pipeline of warm candidates, it's time for the hiring team to interview and close these candidates. However, the sourcer's job isn't done yet — the whole TA team needs to participate in collecting data and iterating on your processes.
Iterating quickly is the secret to great results. Iterating helps you identify and troubleshoot problems. It also leads to quick and consistent growth, as each incremental improvement you make to your processes stacks and compounds.
The other reason why measuring your results in terms of data is so important is that it helps talent teams communicate your value to executives and non-recruiting leaders.
If you can explain why a $10,000 tool will help you source 40% more candidates with the same amount of sourcer time and effort, you're likely to get the tool.
If you can explain why you hired 25% fewer candidates, but the quality of hire improved by 50% and the retention rate improved by 75%, the narrative of your last year goes from failure to success.
Here are the vital metrics your talent acquisition team should definitely be tracking.
Cost-to-Hire
To hire a full-time employee, you'll need to consider the cost of sourcing, recruitment, coordinating, and interviewing. That includes the direct costs of recruiting technologies and subscriptions, the salaries paid to recruiters and hiring managers, and broader structural costs like office space.
The total cost of hiring an in-demand tech professional like a software developer hovers around $66,000 in 2022.
Cost-to-Hire Calculation Template
| | | |
| --- | --- | --- |
| Cost | Calculation | Your Calculation |
| Sourcer Salaries | Salary multiplied by % of time spent sourcing for a role | +___________________ |
| Recruiter Salaries | Salary multiplied by % of time spent recruiting for a role | +___________________ |
| Coordinator Salaries | Salary multiplied by % of time performing administrative and coordinating work for a role | +___________________ |
| Hiring Team Salaries | Salary multiplied by % of time spent interviewing for roles and making offers | +___________________ |
| Sourcing and Recruiting Tool Cost | Fees and subscriptions for recruiting-specific technology | +___________________ |
| General Overhead | Fees for general business expenses like office space and technology like Zoom and G-Suite, multiplied by the % of time spent recruiting for a role | +___________________ |
| Total | Add the above columns | =___________________ |
| Number of Hires | Add the total number of hires made for a role | / ___________________ |
| Cost-to-Hire | Divide the Total by the Number of Hires to calculate Cost-to-Hire | =___________________ |
Time-to-Hire
Defined as the amount of time required to fill an open role, streamlining your time-to-hire is vital in today's market — and not just because time-to-hire is directly correlated to cost-to-hire. Top candidates only last on the market for about ten days, according to research by Bersin by Deloitte.
A trim and efficient recruitment process boosts candidate experience and thus employer brand. In contrast, a slow and bloated process can signal to candidates that your company has a distinct lack of fast and accurate decision-makers.
Hires per source
Sourcing tech or subscriptions to job boards that aren't delivering is worse than useless, sucking up valuable time and resources. Keeping track of hires per source will help you direct resources to high-performing channels and identify low performers to be cut or rethought.
Diversity stats
Adding diversity to your team can lead to increased profits, creativity, and innovation — and will help you comply with federal and state employment regulations, too. Don't forget to break out your diversity metrics to each stage of the interview process — from applicants to offers to hires — to identify bottlenecks where diverse candidates may be dropping out.
Candidate Experience
91% of HR professionals agree that candidate experience is crucial to your quality of hire. That means answering candidates' questions, getting back to them quickly, making take-homes short and painless, and rearranging your own team members' schedules to move quickly.
You can gauge candidate experience by surveying candidates, checking your Glassdoor reviews, and looking at the number of candidates who drop out of your process.
Retention Rate
This metric, which measures how long hires stay at your company, has a large impact on your business outcomes. Avoiding high turnover will help boost your company's productivity, lower sourcing, and onboarding costs, and minimize knowledge loss.
Quality-of-Hire
This metric helps you measure the value employees add to your company. It can include factors such as culture fit, performance reviews, and "ramp-up" time for employees to meet performance expectations.
Talent Sourcing and Recruitment Metrics & KPIs
Metric
Current Performance
KPIs
Cost-to-Hire
This past year, our average cost to hire a software developer was $55,800 across 4 developers.
Shorten interview process from 5 interviews to 3 to reduce costs by $10,000 per hire in Q1.
*Partner with a coding test platform to halve hiring team's time spent on assessments in Q1.
Time-to-Hire
Hires per Source
Diversity Stats
Candidate Experience
Retention Rate
Quality of Hire
Only about a quarter of companies have caught on to using sourcing automation in recruitment. Yet as AI grows more and more powerful, faster, and cheaper every year, it can give your team the edge you need to meet and exceed your recruitment goals.
Get a free copy of all templates in Google Sheets.

Wrapping Up:
Celential's AI-powered solution delivers high-quality and engaged talent with zero effort on your part. With sourcing taken care of, your talent acquisition team's time will be freed up to focus on excellent candidate experience, and closing hires more efficiently. We offer:
A 3-Day average turnaround with warm talent ready for interviews appearing in your inbox or ATS in 1-5 business days.
80% average acceptance rate of tech candidates for competitive, specialized roles like Fullstack, Backend, Frontend, Data, DevOps, Machine Learning Engineers, Tech Leads, Architects, and Managers.
Instant flexibility to scale up and down your recruitment efforts as your hiring needs, role priorities, and budget shift during these uncertain economic times.
Schedule a call to find out how to receive top-quality tech talent for up to 50% less cost.