Blockchain jobs surged 400% last year, making it officially the fastest-growing profession in tech. There will be 1,000,000,000 crypto users in 2030, and next year could be pivotal to laying the groundwork for the future.
The rapid rise of blockchain has created a severe shortage of blockchain developers. What was once a passion project for a small group of enthusiasts is now a growing industry with a real commercial impact.
That's why we created this guide for CEOs, engineering leaders, and talent teams in Crypto giving a full breakdown of today's blockchain market, where to hire blockchain developers, and how.

If you are currently hiring for a Blockchain engineer role, save yourself some time and speak to one of our technical recruiting specialists here.
See how you can start receiving full-vetted candidates in as little as 3-days.
State of blockchain technology in 2022
With the cryptocurrency and NFT crashes of 2022, a lot of the 2021 crypto hype has fizzled out. (Though for the record, plenty of experts are predicting a 2023 surge).
However, blockchain — the underlying technology powering cryptocurrency — is still going strong.
"Blockchain is changing the way the world stores and moves its information," said Google executives Amit Zavery and James Tromans in Google's release of the Blockchain Node Engine in October 2022.
The platform will make it easier for developers to create Web3 applications, or decentralized, blockchain-based applications that many say are the next iteration of the internet (i.e., Web3).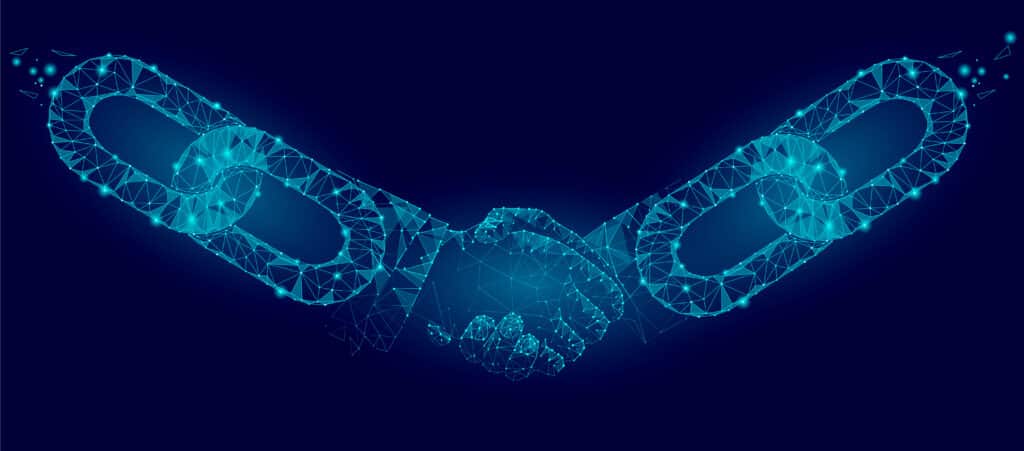 In 2022, blockchain technology is already being used to share information and trade freely, protect data, prevent fraud, and cut the cost of financial transactions globally.
Experts predict that the technology will fundamentally remake voting, personal identification, government benefits, real estate, supply chains, lending, artist royalties, healthcare, the internet of things (IoT) and more over the next few years.
That means that many companies are looking to hire blockchain developers to get ahead of the curve and bring their technology into the Web3 future.
What is a Blockchain Developer, exactly?
A Blockchain Developer is a software developer who designs, builds, maintains and/or tests blockchain applications and systems.
Blockchain is a system of recording information in a way that is (1) secure, so that it can't be changed or hacked, and (2) decentralized, i.e. shared across the entire network of computer systems on the blockchain. Unlike a traditional database, it stores information in groups called "blocks", which when filled, are linked to the previously filled block by cryptography to form a distributed, immutable timeline of data.
Where to hire blockchain developers?
There were just a few thousand blockchain developers five years ago, and since then, they've been snatched up by big tech or have founded their own startups. Universities and bootcamps are scrambling to train new engineers, but it will take time to fill the gap. That leads to challenges for companies looking to hire blockchain developers, such as:
Intense competition for a severely limited list of experienced blockchain developers
The challenge of attracting individuals who are often ideologically motivated (such as by libertarianism, anarchism and the free sharing of information) to commercial projects in industries like banking
Blockchain developers often don't make their profiles public on career sites, or if they do, these profiles are often bare
The newness of the technology means that many leaders aren't familiar with blockchain or what makes a qualified developer
That being said, companies can still succeed in making a great hire if they know where to look. Here are the seven avenues you can use when hiring blockchain developers:
#1 Artificial Intelligence
It is not easy to find blockchain developers using traditional recruiting methods. That's particularly true for web 3 and crypto startups which tend to be early-stage, meaning they don't yet have a HR or TA team. Busy CEOs and engineering leaders don't have time to spend hours manually sourcing elusive blockchain developers.
But the great news is that technology has been developed to handle that sourcing for them, delivering qualified candidates for less cost and zero work on their part.
How is it possible? Artificial intelligence is able to aggregate data on blockchain developer profiles from thousands of sources across the web: online open-source communities such as GitHub, hackathons, conferences and publications. It enriches these profiles with Machine Learning models custom-built for tech recruiting, making intelligent decisions and finding the most accurate matches to a role, team and company — even when candidates can't be found in traditional resume databases.
Our pick for AI Solutions: Celential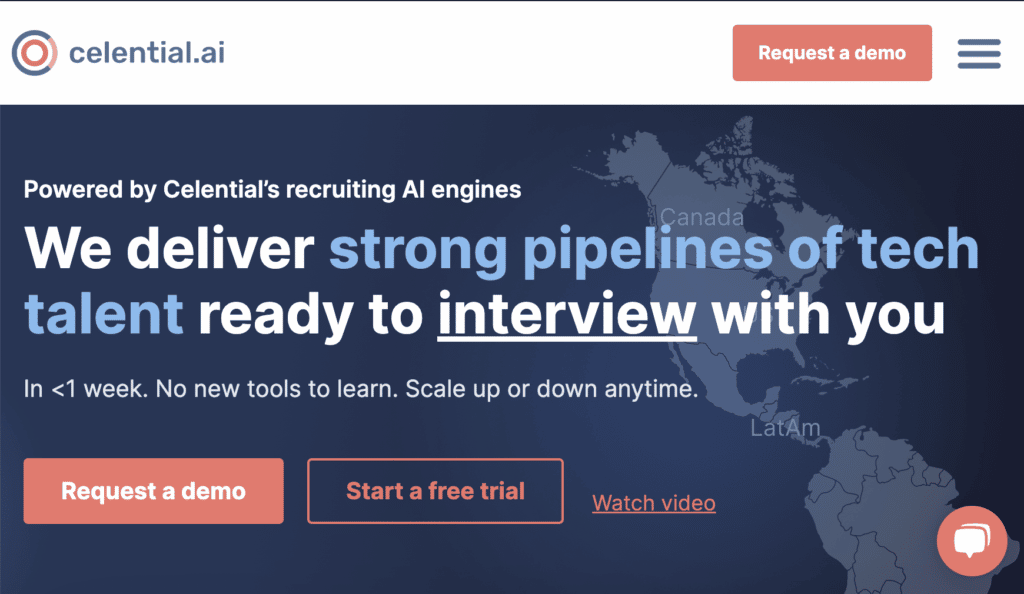 Celential.ai was founded by engineering leaders who faced challenges building top-quality, diverse engineering teams at tech companies like Salesforce, VMWare, and Zynga. Realizing that traditional recruiting methods were falling behind, they created an AI sourcing solution able to make insights and pitch roles like a human recruiting expert.
Celential's talent graph consists of over 15 million tech candidate profiles from the US, Canada, Latin America and India. You can sign up for a risk-free trial to receive highly matched candidates ready to interview for your roles in 3 days on average.
#2 Job boards/Hiring platforms
The advantage of posting on a job board or hiring platform is that you can connect with blockchain developers who are actively looking and require less "selling" on your part. While qualified and actively looking blockchain developers are rare, it's still worth creating a job posting for your role.
Our job board picks:
#3 Proactive Sourcing
While it would be great if hordes of qualified blockchain developers applied to your job board postings, unfortunately, the chances are slim. Proactive sourcing of blockchain developers who are already employed is almost certainly a requirement when it comes to hiring a sought-after blockchain developer.
Our tip is to target talent at companies specializing in crypto or blockchain technology and highly personalize your outreach messages to attract their attention.
It's also recommended to incorporate a few of the best AI sourcing tools into your process.
#4 Hiring hourly or freelance blockchain developers through talent marketplaces
If you're not looking to make a full-time hire, talent marketplaces can help you connect with engineers paid by the hour.
Our talent marketplace pick: DevTeam.space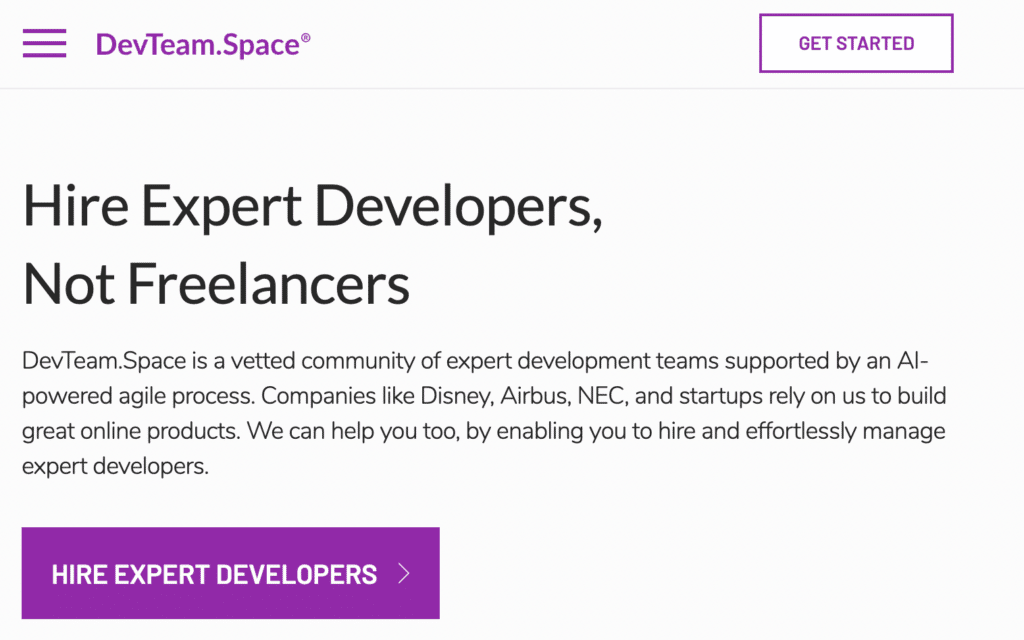 DevTeam.space will match you with vetted blockchain developers with less effort required than a freelancer job board like Upwork or Fiverr — and, it's specialized for software developers only. However, you can expect to pay a correspondingly higher hourly rate. For lean and fast-moving early-stage startups, the investment might be worth the premium.
#5 Blockchain development agency
A blockchain development agency is essentially a software development consultancy specializing for blockchain. You develop a project, and the company will help you design and develop a custom solution to fit your organization's needs. 
Though hiring a software development agency is fast and easy, it comes with its own share of pitfalls. Speed tends to win out over quality as short-term consultants are incentivized to deliver "good enough" solutions as fast as possible.
Our pick for blockchain development agency: LeewayHertz
LeewayHertz is a Web3 development company building custom software solutions for startups, DAOs, and enterprises. The company's main advantage is the breadth of its services — covering the design and development of NFTs, metaverse, Internet of Things, Virtual Reality, AI, and Web3 technologies.
Unlike many other blockchain development companies, LeewayHertz also operates on multiple blockchain platforms like Ethereum, Hyperledger Fabric, Sawtooth, Neo, and more.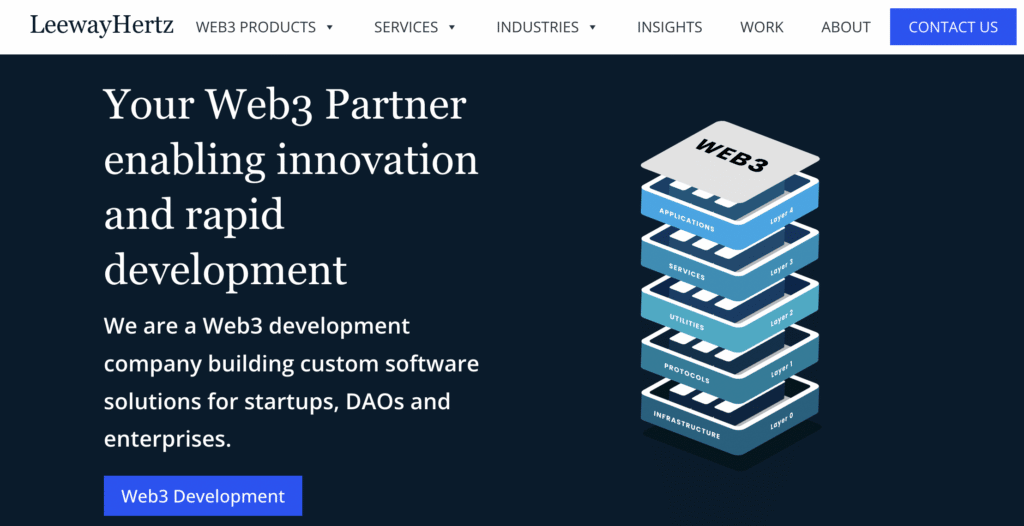 #6 Online tech communities
One of the best ways to hire blockchain developers is to connect with them in their own communities. Given that blockchain is an open-source technology, experience with open-source communities such as GitHub and Stack Overflow is a must. Twitter and Discord are also great places to connect with enthusiasts who are staying on top of the newest trends, learning new technologies and tackling complex projects outside of their day job.
Our pick: Ethereum Development and DApps Subreddit
With nearly 100,000 members, this community discusses all things blockchain: contracts, DApps, wallets, clients, infrastructure, tooling, UIs, patterns, and more. Blockchain developers of all levels can ask questions, help each other with code, collaborate on projects, and discuss all the latest blockchain news.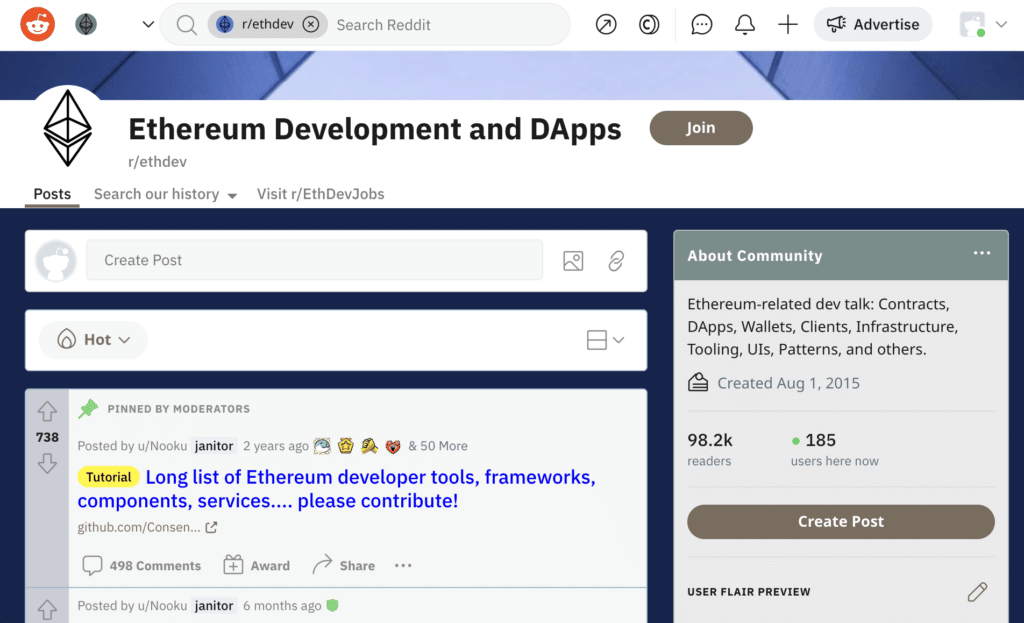 #7 In-person and online conferences, meetups, and hackathons
Industry conferences and events attended by the people you'd like to meet can be great places to network and source candidates. By going offline, you don't have to compete with every employer on the globe — and blockchain developer candidates will be more likely to reply to your recruiting messages if they've met you in person.
Online events like hackathons are also a great way to observe a developer in action and notice those who stand out.
Our pick: World Blockchain Summit
The World Blockchain Summit is the largest global series of blockchain, crypto, and Web3 events. Its 2022 events in Dubai, Singapore, and Bangkok attracted leading blockchain experts and policymakers, regulators, investors, entrepreneurs, and influencers.
The next event of the summit, in 2023, will be held in London.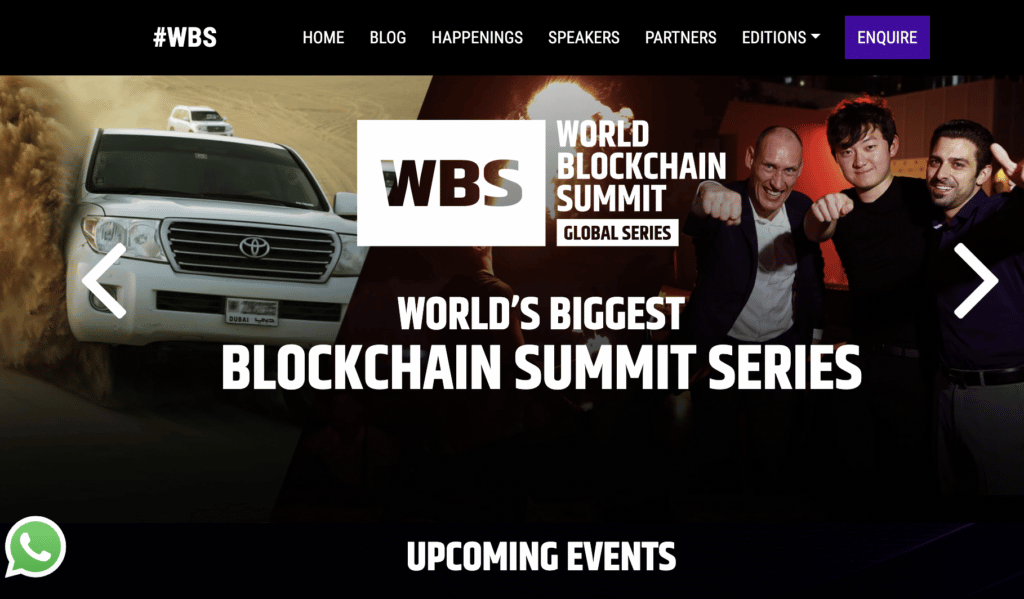 #8 Train a blockchain developer
Given how difficult it is to find blockchain developers these days, many companies are building teams by hiring and upskilling software engineers or even targeting new grads from top computer science schools. You can look for those who have experience in distributed systems, high-performance computing, and cybersecurity — or for those who simply express an interest in blockchain and a willingness to learn.
How to hire a blockchain developer
Once you've found and connected with great talent, how do you decide whom to hire? You can hire the best blockchain engineers by following these steps:
Step 1: Decide on Your Blockchain Business Strategy
To build an effective business strategy, the first question to answer is, why are you using blockchain?
Here are some potential answers:
Fraud prevention and data security. Blockchain's design and encryption make it much harder for hackers and fraudsters to get away with fraud or data breaches of personal and financial information.
Increased trust and transparency. With just 2% of Americans trusting the government to do what's right, trust in political institutions and big tech is at an all-time low. Blockchain increases transparency by allowing anyone to check the record and verify claims.
Reduced cost. One of the reasons why blockchain was invented was to cut out the costly middleman in financial transactions. Allowing the payer and payee to exchange money directly, reduces cost-per-transaction.
Another crucial question is, are you going to build your own blockchain?
Using a pre-built open-source blockchain like Ethereum or Cardano is faster and easier.
However, forking or building from scratch a new blockchain may be necessary if you have a creative new idea or if a pre-existing blockchain doesn't suit your organization's needs.
Finally, what kind of blockchain are you building?
Public blockchains have no access restrictions, and anyone with an internet connection can participate. Bitcoin and Ethereum are examples of a public blockchain.
Private blockchains have restrictions on permission, and a user can only join if invited by a network administrator.
Consortium or federated blockchains have a pre-selected list of users with equal power. They can only function with smaller groups, but are faster and consume less resources.
Hybrid blockchains have a mixture of centralized and decentralized features.
Step 2: Create a strategic plan to hire blockchain developers
When you're creating a strategic plan, the first step is to decide on your budget and which type of developer you want.
Full-time vs freelance blockchain engineers. If you have sustained, relatively predictable needs, choose the former — if you need to stay flexible and lack the resources to onboard a new employee, the latter is best.
Seniority level. If you're building a new blockchain from scratch or training software engineers to work on blockchain, you'll need a more experienced developer with hiring and managing experience. Targeting years of experience also depends on your budget and timeline.
Local vs. remote. A tight-knit, early-stage startup team may wish to stay in-person and fill jobs locally. On the other hand, budget-strapped development teams can eliminate overhead and access talent from other, cheaper hiring markets worldwide. Staying remote can also help teams in a competitive market attract blockchain developers who prefer the lifestyle.
Experience in regulated or non-regulated markets. Cryptocurrency regulations vary significantly across the world, and familiarity with use cases can be valuable.
Source: workandmoney.com
Blockchain Position Types
There are two main blockchain position types. Those are:
Core blockchain developer
A core blockchain developer designs the architecture of the blockchain system that underlies decentralized applications (dApps). That includes protocols, network architecture, backend development, and maintenance.
Core blockchain developers typically develop in low-level or embedded languages like C++, Java, and Rust.
Software blockchain developer (dApp developer)
A software blockchain developer builds applications on top of the foundation built by the core blockchain developer.
Full stack dApp developers are typically proficient in backend programming languages like Python and Java and frontend frameworks/libraries such as React and Angular.
Skills to look for when hiring a blockchain developer
Source: ifunny.co
Hard Skills:
| | |
| --- | --- |
| Core Blockchain Development | C++, Go, Java, Rust… |
| Software Blockchain Development (Backend) | Python, Java, C#, Ruby… |
| Software Blockchain Development (Frontend) | React, Angular, JavaScript… |
| Smart Contracts | Chainlink, Remix, OpenZeppelin… |
| Other dApp technologies | Solidity, Ganache, Geth, Parity, Metamask… |
| Frameworks | Hardhat, Truffle, Brownie, Dapps.tools… |
| Testnets | Ropsten, Rinkeby, Kovan… |
Soft Skills:
Communication, Flexibility, Adaptability, Teamwork, Perseverance, Creativity, Problem-Solving, Startup Mentality, Willingness to Learn
Blockchain Fundamentals: A glossary
Here's a quick explanation of all the basic blockchain terms so you can easily scan a developer's resume:
Consensus Mechanism: process that allows all peers in a network to agree on the validity of transactions submitted to the network. There are many different types, the most popular being proof of work (PoW) and proof of stake (PoS).
Cryptocurrency: digital currency in which transactions are verified and recorded by a decentralized system using encryption and consensus mechanisms, rather than by a centralized authority
Decentralized Autonomous Organization (DAO): A governance structure without a central authority. Changes in the rules are determined by vote, with voting power distributed to members in accordance with their stake. As a member with a large stake will not want to jeopardize the value of their holding, the structure incentivizes members to act in good faith.
DApp: An application that is built upon a foundation of blockchain technology.
Decentralization: The transfer of control from a centralized organization (such as a government) to a distributed network in which each node makes its own independent decisions.
Distributed Ledger: a continuous record of sequential transactions which is accessible, viewable, editable, and verifiable by all participants in a network.
Fork: an alternate version of a blockchain created by copying and modifying the first. Participants in a network can agree to accept the new version or stay with the old — sometimes creating two versions continuing in parallel. An example is Ethereum and Ethereum Classic.
Fungible/Nonfungible: Fungible items can be exchanged with each other. For example, dollars and cryptocurrency are fungible. On the other hand, houses are nonfungible because no two are exactly equivalent (each has a different location, time of building, and other quirks).
Smart Contract: code that runs on the blockchain. It can automate the execution of actions once a set of conditions has been met, in accordance with the agreement established among parties. They facilitate the exchange of currency, property, or anything else of value in a transparent and immutable way.
Token: also called a "digital asset," it is a piece of code stored on the blockchain that can represent any asset, access right, or another unit of value. It is accessible only by the person who has the private key.
Wallet: a digital storage location for cryptocurrency or tokens with an address for sending and receiving assets. A wallet can be online (hot) or offline (cold).
Blockchain Development Tools
These are the most commonly-used tools for blockchain development that you should look for on a resume.
Embark: framework for developing and deploying dApps
Ganache: personal blockchain that allows blockchain developers to create smart contracts, dApps, and tests
Geth: tool for running full nodes on Ethereum. It is used for transferring tokens, mining ether tokens, and smart contracts
Metamask: browser extension that allows you to run Ethereum apps and acts as a digital wallet
Solidity: statically-typed language used to write dApps
Solc: compiler for Solidity
Truffle: framework for creating a development environment for developing, testing and deploying Ethereum apps.
Remix: tool for creating, testing and deploying smart contracts
Blockchain developer resume sample
Curious about what exactly blockchain developer resumes look like? Here's an example of a typical blockchain developer profile:
Resume: Todd Thomas
I am a passionate Blockchain Engineer inspired to help others in any way that I can. I want to build products that are useful, that push me to grow as a developer, and help bring Web3 to the world.
Professional Experience:
Blockchain Engineer at Doxily (2019-)
– Designed and built blockchain based on Substrate
– Implemented reusable libraries and custom logic for blockchain state machineImplemented smart contracts and integrated them with the backend service

Software Engineer at Revex (2016-2019)
– Developed distributed microservices to manage blockchain nodes and infrastructure
– Integrated with Ethereum blockchains and scaled transaction processing systems
– Deployed testnet to facilitate testing of blockchain while incorporating Web3 functionalities
– Collaborated with platform engineers to improve scalability and observability of deployments

Personal Projects (2016-)
– Created Crypto Wordle
– Created Ethereum Coin Flip Betting Game
– Created DeFi liquidation calculator
Education: Computer Science B.S. New York University (2016)
Skills:
Substrate, Rust, Smart Contract, Solidity, Microservice, MongoDB, Docker, Kubernetes, AWS, C++, C, Python, Go, Kafka, Ethereum, Distributed Ledger Technology
This developer's work mainly centers on smart contracts, blockchain development and backend engineering. As expected, his skills are a mix of backend engineering skills (Microservices, AWS, Docker…) and blockchain development skills (Solidity, Ethereum, Substrate…) He also highlights his passion for Web 3 and cryptocurrency, as evinced by personal projects. Titles for blockchain developers commonly include "Blockchain Engineer" and simply "Software Engineer".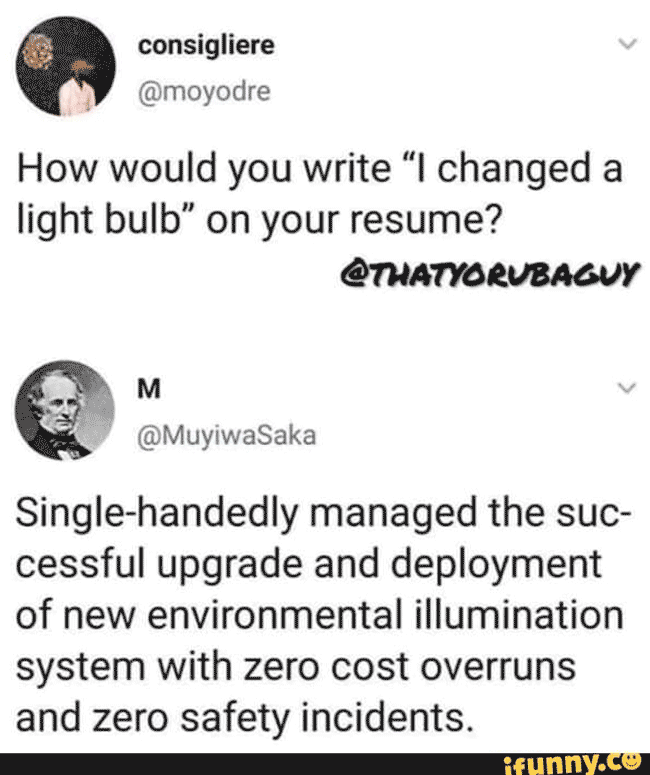 source: resumegenius.com
FAQ
How much do blockchain developers make?
An average blockchain developer makes $96,000-$154,000 in the United States, according to Glassdoor data. However, salaries climb higher in tech hubs like the San Francisco Bay Area — and it's not uncommon for the most in-demand, top blockchain developers to make $500,000 or more.
How much does it cost to hire a blockchain developer?
It costs $50-200 per hour to hire a blockchain developer on a freelancer platform to help complete a project.
The total cost to hire blockchain developers full-time (including sourcing costs, recruiting costs, and interviewing costs) can be calculated using this template, and likely exceeds $66,000 for most organizations.
Wrapping up
Much like Blockchain, AI grows more and more powerful, faster, and cheaper every year — giving your team the edge it needs to meet and exceed your recruitment goals.
Celential's AI-powered solution delivers high-quality and engaged talent with zero effort on your part. With sourcing taken care of, your talent acquisition team's time will be freed up to focus on excellent candidate experience, and closing hires more efficiently.
We offer:
3-Day average turnaround with warm talent ready for interviews appearing in your inbox or ATS in 1-5 business days.
80% average acceptance rate of tech candidates for competitive, specialized roles like Fullstack, Backend, Frontend, Data, DevOps, Machine Learning, Tech Leads, Architects, and Managers.
Instant flexibility to scale up and down your recruitment efforts as your hiring needs, role priorities, and budget shift during these uncertain economic times.
Schedule a call to find out how to receive Web 3-ready tech talent for up to 50% less cost.