How great would it be to know what the salary was for any job before you applied? No awkward conversations with the hiring manager after several rounds of interviews or feeling like you are being lowballed because of your race, gender, or even name.

It could potentially save employers and job seekers thousands of hours of time and create a more transparent and equitable job market.

The reality is that this world is already becoming possible. New York City's pay transparency law took effect in November, while Colorado has required businesses to list salaries and benefits on job ads since 2021. New York City's law will be expanded statewide in September 2023 along with a slate of new laws set to take effect in California, Washington, and Rhode Island in January 2023
How do people feel about these changes? Visier surveyed 1,000 U.S.-based full-time employees and 79% of them said they want salary transparency. The movement is increasingly becoming a norm in society and has the potential to identify and remedy unjust discrepancies in how compensation is calculated.
Source: pennlive.com
If you're thinking about your organization's commitment to salary transparency heading into 2023, you're not alone. That's why we put together this guide together explaining what is pay transparency, and how employers can leverage it as a competitive advantage in today's recruiting and hiring market.
For more on how companies can adapt to pay transparency laws in recruiting and hiring, you can also watch our on-demand webinar.
What does pay transparency mean?
Pay transparency is how open organizations are about sharing their current and prospective employees' compensation. Besides salaries and hourly wages, that includes information on commissions, bonuses, raises, benefits, retirement plans, and all other forms of compensation.
What is pay transparency policy?
Pay transparency policy can be proposed or implemented by a government, business, or individual. It includes:
Disclosing pay ranges in job advertisements
Disclosing how compensation is calculated
Proactive conversations between managers and employees about compensation
Payroll audits to determine whether certain employees are individually or systematically under-compensated
Which states have pay transparency laws
A movement of pay transparency laws has been sweeping through states since 2021. Here's our list of the state laws hiring teams should be aware of, updated for 2023.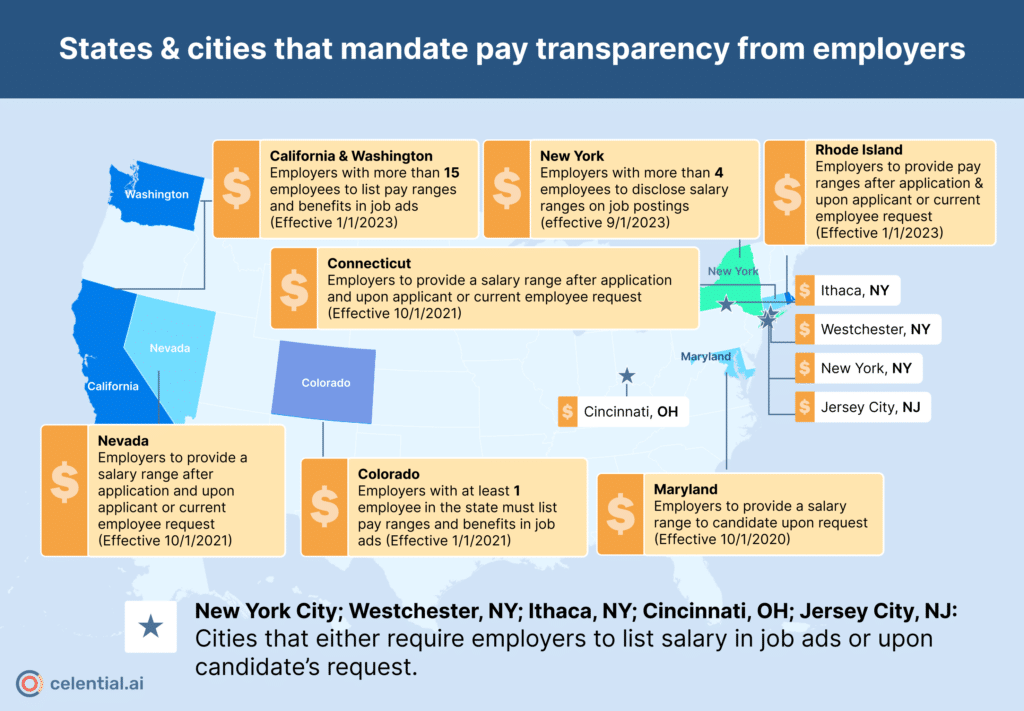 California:
Under existing California law, businesses of all sizes must provide pay scales to applicants "upon reasonable request".
In accordance with SB 1162, which takes into effect January 2023, employers "with 15 or more employees" are required:
"Upon request, to provide to an employee the pay scale for the position in which the employee is currently employed"
"To include the pay scale for a position in any job posting"
"To maintain records of a job title and wage rate history for each employee for a specified timeframe, to be open to inspection by the Labor Commissioner"
Companies with 100 or more employees are also required to report pay data to the California government annually. That includes:
The "number of employees by race, ethnicity, and sex" separated by job category
The "number of employees by race, ethnicity, and sex, whose annual earnings fall within each of the pay bands used by the United States Bureau of Labor Statistics in the Occupational Employment Statistics survey."
In each job category, "for each combination of race, ethnicity, and sex, the median and mean hourly rate".
Fines can reach up to $10,000 for violations. For more information, you can reference the full text of SB 1162.
Colorado:
Colorado was one of the first states to pass a pay transparency law in 2019, the Equal Pay for Equal Work Act, which took effect in January 2021.
Any business "employing a person in the state" must:
"Disclose in each posting for each job opening the hourly or salary compensation, or a range of the hourly or salary compensation, and a general description of all of the benefits and other compensation to be offered to the hired applicant".
"Make reasonable efforts to announce, post, or otherwise make known all opportunities for promotion to all current employees on the same calendar day and prior to making a promotion decision".
"Keep records of job descriptions and wage rate history for each employee for the duration of the employment plus two years after the end of employment in order to determine if there is a pattern of wage discrepancy."
Fines for violating the law range from $500-$10,000. More information can be found in the full text of SB 19-085.
Connecticut:
As of October 2021, in accordance with Public Act No. 21-30, employers "within the state using the services of one or more employees for pay" may not:
"Prohibit an employee from disclosing or discussing the amount of his or her wages or the wages of another employee of such employer that have been disclosed voluntarily"
"Discharge, discipline, discriminate against, retaliate against or otherwise penalize any employee who discloses or discusses the amount of his or her wages or the wages of another employee"
"Inquire or direct a third party to inquire about a prospective employee's wage and salary history unless a prospective employee has voluntarily disclosed such information"
"Fail or refuse to provide an applicant for employment the wage range for a position for which the applicant is applying, upon the earliest of (A) the applicant's request, or (B) prior to or at the time the applicant is made an offer of compensation"
"Fail or refuse to provide an employee the wage range for the employee's position upon (A) the hiring of the employee, (B) a change in the employee's position with the employer, or (C) the employee's first request for a wage range"
An affected party may bring a civil action against violations of the Connecticut law's pay transparency requirements to obtain " compensatory damages, attorney's fees and costs, punitive damages and such legal and equitable relief as the court deems just and proper." More information can be found in the full text of Public Act No. 21-30.
Maryland:
Effective October 2020 with the passage of the Maryland Equal Pay for Equal Work act, employers engaged in "engaged in a business, industry, profession, trade, or other enterprise in the State" of Maryland
"May not prohibit an employee from enquiring about, discussing, or disclosing the wages of the employee or another employee" or ""take any adverse employment action against an employee for inquiring about the employee's wages or another employee's wages"
Employers are also required to:
"Provide to an applicant for employment the wage range for the position for which the applicant applied"
Violations of the act may result in fines "not exceeding $300". Further information can be found in the full text of Maryland's Labor and Employment Article Title 3, Subtitle 3.
Nevada:
As of October 2021, SB 293 requires any "public or private employer in the state" of Nevada to provide:
"To an applicant for employment who has completed an interview for a position, the wage or salary range or rate for the position"
"The wage or salary range or rate for a promotion or transfer to a new position if an employee has (1) applied for the promotion or transfer; (2) completed an interview for the promotion or transfer or been offered the promotion or transfer; and (3) requested the wage or salary range or rate for the promotion or transfer"
The law states with respect to violations, that "In addition to any other remedy or penalty, the Labor Commissioner may impose against any employer or employment agency or any agent or representative thereof that is found to have violated any provision of this section an administrative penalty of not more than $5,000 for each such violation" in addition to "investigative costs and attorney's fees". Further information can be found in the full text of SB 293.
Rhode Island:
Effective January 2023, in accordance with Senate Bill 270, Rhode Island employers must provide a wage range under the following conditions.
"Upon the applicant's request, an employer shall provide an applicant for employment the wage range for the position for which the applicant is applying"
"The employer should provide a wage range for the position the applicant is applying for prior to discussing compensation"
"An employer shall provide an employee the wage range for the employee's position both at the time of hire and when the employee moves into a new position"
"During the course of employment, upon an employee's request, an employer shall provide the wage range for the employee's position"
The bill defines a wage range as:
For an applicant, "the wage range that the employer anticipates relying on in setting wages for the position and may include reference to any applicable pay scale, previously determined range of wages for the position, the actual range of wages for those currently holding equivalent positions, or the budgeted amount for the position as applicable"
For a current employee, a wage range "may include reference to any applicable pay scale, previously determined range of wages for the position, or the range of wages for incumbents in equivalent positions, as applicable"
First-time fines for violating the law can be as high as $1,000 and increase up to $2,500 for a second violation within five years or $5,000 for a third violation within seven years. More information can be found in the full text of SB 270.
Washington:
Beginning January 2023, in accordance with Senate Bill 5761, employers with "15 or more employees" must:
"disclose in each posting for each job opening the wage scale or salary range, and a general description of all of the benefits and other compensation to be offered to the hired applicant"
In accordance with "remedies in RCW 49.58.060 and 49.58.070", affected parties may bring a civil action against a violation for "statutory damages equal to the actual damages or five thousand dollars, whichever is greater; interest of one percent per month on all compensation owed; and costs and reasonable attorneys' fees". More information can be found in the full text of SB 5761.
New York:
Effective September 2023, Senate Bill S5598D will apply to any employer with "4 or more employees" advertising a job that "can or will be performed, at least in part, in the state of New York". Such employers will be required to disclose:
the compensation or a range of compensation for such job, promotion or transfer opportunity
the job description for such job, promotion, or transfer opportunity, if such description exists
a general description of other forms of compensation to be offered if applicable, including but not limited to fringe benefits, bonuses, stock options or commissions
Any employer that breaks the new law could face a penalty of up to $3,000 per violation. More information can be found in the full text of bill S5598D.
Other Local laws:
Many cities and counties such as New York City, Cincinnati, Ohio; Ithaca, New York; Westchester, New York and Jersey City, New Jersey have implemented pay transparency laws and ordinances that apply locally.
Why pay transparency is important
96% of job seekers agree that transparency is important in the workplace. Here's why pay transparency is crucial in building a solid workforce.
1. Reduction of bias: How can pay transparency help create a more equitable workplace?
Unfortunately, there are many inequities in the current tech workforce landscape.
Women often face social backlash when they negotiate as aggressively as men.
Source: cheezburger.com
One in four Black employees reports facing discrimination at their workplace.
Hispanic women receive just 57 cents for every dollar earned by white, non-Hispanic men, and Black women earn just 64 cents.
Nearly half of LGBTQ+ employees are afraid that being out will hurt their career prospects.
With recent social movements like #MeToo, Black Lives Matter, Marriage Equality, and the pandemic-sparked Great Resignation, increasing pay equity is a top priority for many Americans.
Pay transparency is a valuable tool for recruiting top diverse talent, building an excellent employer brand and company culture, and boosting productivity and retention. It also reduces bias based on characteristics like race, gender, ability, and age rather than job experience and performance.
If you want proof, an analysis of wage and productivity data relating to 100,000 academics in the United States, which spanned two decades, found that increased transparency around pay resulted in a 20% reduction in the difference between the salary of individuals who participated.
2. Trust
Pay transparency eases employees' concerns about fairness and helps to improve workplace culture.
On the other hand, companies that are secretive and close down avenues of communication will find it difficult to build trust with their employees.
If employees discover their pay is not equitable for the work they are performing or in comparison with their peers, they are likely to become dissatisfied and resentful. It can also empower employees to understand how their pay stacks up against market compensation data and allows them to advocate for themselves.
3. Attracting top talent
High-performers with in-demand skills generally have many options to consider for their next career move — particularly in a tight labor market. Employers who are open and transparent about salaries will have a competitive edge in persuading top talent to interview with them.
Sharing pay ranges early can also help talent acquisition teams quickly eliminate candidates who won't be a fit, allowing them to focus their valuable time on candidates who will potentially accept an offer.
Pay transparency also helps you appeal to top talent by signaling that your company is a great place to work. 56% of talent told Glassdoor that a strong company culture is more important than salary — making pay transparency a great attraction mechanism for persuading prospective employees to come on board.
4. Increased performance and retention
Being underpaid is the top reason why workers quit.
It may feel like a good deal to hire someone for less than they are worth — but in the long run, it costs considerably more to continually find, recruit and replace employees than to simply pay professionals what they are worth in the first place.
On the other hand, companies that are transparent about pay tend to have happier workforces.
A survey of 71,000 workers found that when employers took the time to speak with employees about their salaries, their job satisfaction more than doubled from 40% to 82%. Transparent companies can expect correspondingly higher rates of workforce productivity, motivation, and performance.
5. Employer brand
Twitter bots like #talkpay and @paygapapp have made headlines for publicly shaming companies who brag about supporting equal pay, yet fall short when it comes to their own pay practices.
Organizations such as the BBT and Google have suffered reputational damage from high-profile cases of flagrant gender pay disparity.
Conversely, companies like Whole Foods and Verve have gained positive attention and boosted their brand as an employer by taking actionable steps to embrace pay transparency and pay equity.
6. Compliance with the law
Pay transparency isn't just an ethical decision — it can also help companies avoid legal consequences such as hefty fines and massive court settlements for pay discrimination.
New York City's recent pay transparency laws authorize fines of up to $250,000 for employer violations — that's almost five times the full median annual US salary.
How to implement pay transparency
Staying up-to-date on the latest news is a must as pay transparency laws take effect over more states each year, and companies can face significant financial penalties for not complying with legal requirements.
But it's not just companies who operate and hire from these states who should care — as employees across the United States increasingly expect pay transparency, according to a survey by Adzuna, 33% of job seekers said they would not go to a job interview without first knowing the salary. Employers who haven't updated their recruiting and hiring strategies will fall behind. 
Here are the concrete steps you can take to build your pay transparency roadmap.
Step 1: Collect employee compensation data
The first step to transparency is to collect data on what you are currently paying your employees. By determining the pay structures and ranges across your organization, you'll be able to assess the state of your overall workforce compensation and determine where you need to make improvements or adjustments.
Step 2: Share relevant pay information in job postings and with employees
Once you have determined your salary ranges, the next step is to actively share this information with prospective and current employees. Disclosure and transparency can help employees to see how they compare with their peers in similar roles in your organization and others.
Step 3: Conduct payroll audits to identify and remedy discrepancies
It's not enough to simply gather data on salaries. Employers should also implement their own pay structures and ranges (if they haven't already). Employers conduct proactive payroll audits both across their own roles and in comparison with market data to determine whether they are being consistent and competitive regardless of race or gender.
Key to this step is determining how each pay range was calculated based on job responsibilities, years of experience, location, and other objective factors for white male employees and comparing that to everyone else.
If you reach this step, you're likely above average in pay transparency as an employer — only about one-quarter of the top 954 public companies have conducted an analysis of gender pay gaps.
Step 4: Conversations with employees
Managers should be trained to have open and honest conversations with employees in order to ensure employees understand the hows and whys behind their compensation. Employers can also benefit from hearing feedback and addressing concerns — and listening to employees will build up trust and company culture.
Step 5: Fully transparent pay
While most companies have not yet reached this stage, some employers such as Buffer have pioneered full pay transparency — publicly publishing every employee's salary and how it was calculated.
For Buffer, the results have been positive as the company managed to completely eliminate its pay gap for similar work while continuing to grow its product.
Step 6: Location-based pay transparency
Pay cuts of up to 25% for relocating Google employees are just the latest controversy in the location-based pay debate.
Some say that employers should help out employees who live in high-cost areas like Silicon Valley. Others believe that people should be paid for their skills regardless of where they are located.
As the world becomes more remote and employees are hired regardless of nationality, companies will need to decide on — and communicate — their policy to employees in a clear and transparent manner.
One great example is GitLab, which provides its employees with a pay calculator breaking down all the factors, including location, that go into calculating each team member's salary information.
Wrapping Up:
For more on how companies can adapt to pay transparency laws in recruiting and hiring, you can watch our on-demand webinar.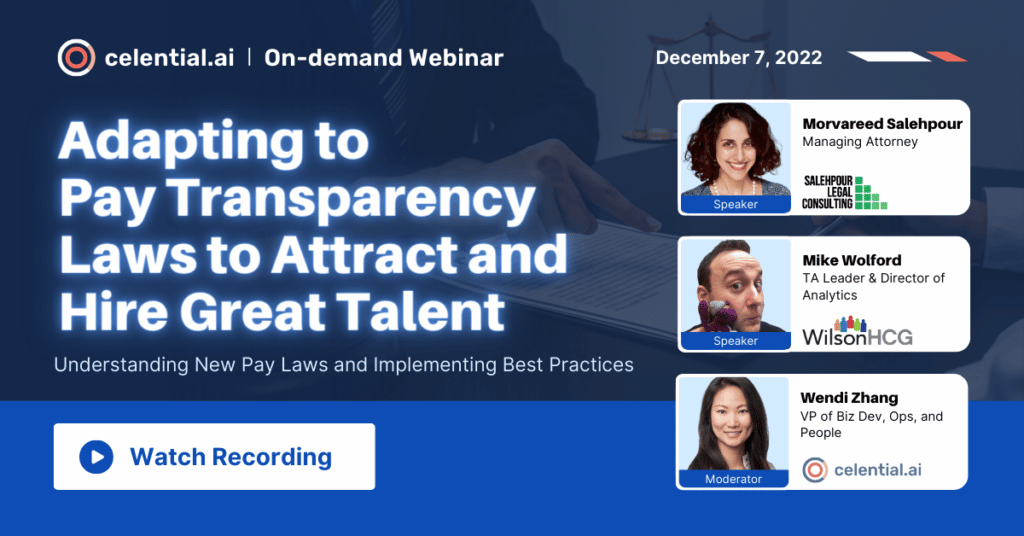 For other ways to supercharge your tech hiring and candidate experience, you might consider Celential.ai. We are an AI human-in-the-loop recruiting service that possesses a talent graph of over 15M tech professionals in Latin America, India, Canada, and the U.S. We use natural language processing and machine learning to match top candidates to your company and salary ranges. We also provide:
AI-generated hyper-personalized messaging that stands out from general recruiter outreach and gets passive candidates engaged for the first interview.
80% average acceptance rate for competitive, specialized roles like Fullstack, Backend, Frontend, Data, DevOps, and Machine Learning engineers, Tech Leads, Architects, and Managers
Instant flexibility to scale up and down your recruitment efforts as your hiring needs, role priorities, and budget shift during these uncertain economic times.
Sign up for a free trial to start building a strong pipeline for your critical tech roles!