With the current demand for tech talent, it is now more difficult than ever to find and hire tech recruiters. The WSJ reports that demand for recruiters has fully doubled since February 2020."There are not remotely enough recruiters to fill the demand that's out there," John Arbolino, managing director at Boothroyd & Co., told the WSJ. "Everyone and their mother out there in corporate America wants recruiters."
As a result, many recruiting teams and agencies find that upskilling their in-house recruiters can be a great way to fill crucial engineering roles. 
We've put together a list of 11 technical recruiting tips with advice from actual technical recruiters to share with your recruiting team.
Looking for more tips on hiring and upskilling technical recruiters? Download our eBook How To Hire Technical Sourcers & Recruiters.

How is recruiting tech talent different?
Technical recruiting is different from regular recruiting, as tech recruiters need solid knowledge of software engineers' terminology to describe their work.
Hiring software engineers can be a real challenge if you haven't had much exposure to tech talent. Software engineers can detect quickly when a recruiter lacks the requisite knowledge to evaluate them and gauge mutual fit to a role.
However, the great news is that all of the skills you already have as a recruiter are entirely relevant to being a tech recruiter — and the technical part is very learnable.
How to be a successful technical recruiter
With the tech industry moving and changing quickly, it is crucial to stay up to date with the latest market trends, technological developments, and in-demand skills. Being willing to learn, ask questions, and make mistakes continually will help you upskill quickly.
Though technical jargon can seem intimidating at first, it can help you figure out exactly what a candidate does.
One way to memorize all the relevant terms is by creating a technical recruiting cheat sheet. Your team can spend a couple of minutes each day practicing the different technical terms and definitions and even quiz each other on tech recruitment tips.
The first time you fill a particular role might be particularly challenging. Still, the next time that you are hiring tech talent and need a full-stack Python/Django developer, you'll have your tech recruiting strategy memorized.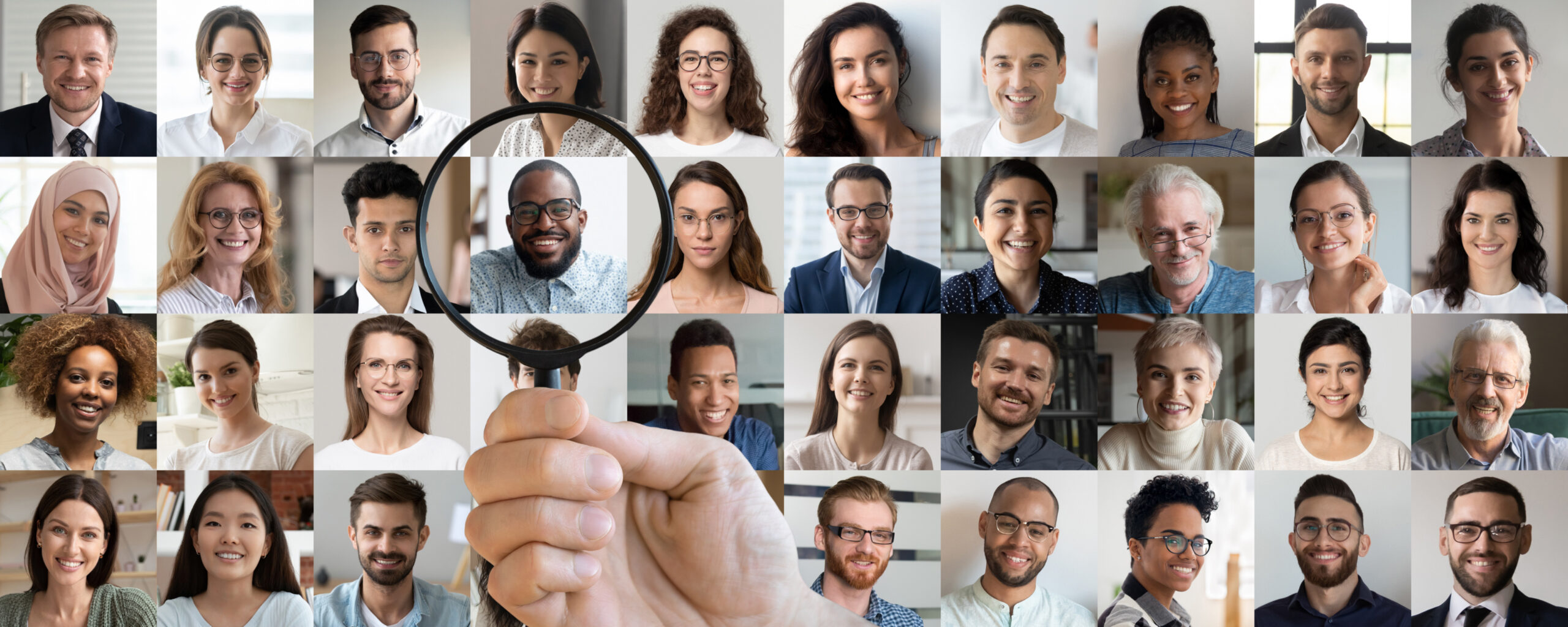 Of course, all of the soft skills that make excellent technical recruiters are shared by traditional recruiters:
Strong communication skills, both verbal and written
Marketing and sales ability to engage candidates
Empathy and focus on candidate experience
Familiarity with metrics and the use of data to track inefficiencies and improve the process
Creativity in crafting an appealing job description and messages
Organization, multitasking, and time management
The ability to network and build relationships
Adaptability, resilience, and persistence
11 Tech Recruiting Tips for Non-Techies
Although it may seem overwhelming at first, there are multiple areas that recruiters can train in to hire top tech talent. Take these 11 tech recruitment tips to upskill your hiring team.

1. Understand the tech roles and the tech community
Roles vary widely from company to company; a solutions engineer could be a partner engineer at one company or an integration engineer at another.
Conversely, any given backend engineer has a particular set of tech languages, skills, and domain expertise and won't be a fit for every type of backend role.
You first need to gain familiarity with the landscape of technical roles software engineers can perform and the skills they require to be successful in each. Then you'll be able to interpret a technical candidate's resume or online profile and determine the roles that fit them best.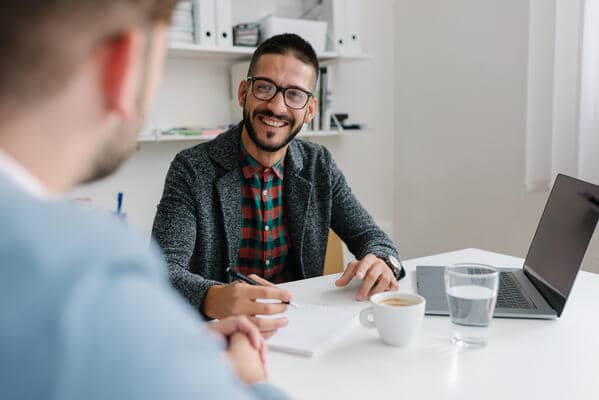 One way to gain the lingo quickly is to read through online tech glossaries for recruiters and create flashcards with the most important technical terms. You might also consider earning a quick certification from LinkedIn or Devskiller in technical recruiting.
Soon, you will find that the difference between Java and JavaScript is no trouble at all!
2. Consider looking outside your geographic borders
Including candidates from other countries in your search is a great way to diversify your candidate pool when it is challenging to afford Silicon Valley salaries or even find qualified individuals.
As a bonus, with the US paying the highest salaries in the world for software engineers, these candidates may be more likely to reply to your messages.
According to Stack Overflow, tech companies most request software engineers from:
Canada
Dominican Republic
Poland
Portugal
Australia
The fastest-growing region for tech professionals in 2021 was Latin America. The demand for Latin American engineers skyrocketed by almost 300%. Countries such as Columbia, Mexico, and Brazil are producing Unicorns at an incredible rate and could be good places to source passive candidates.
3. Personalize your outreach to stand out
You can really stand out from the crowd of recruiters by not only pitching your opportunity to the candidate but devoting equal time to highlighting the reasons they may be a fit.
By mentioning how they fit in with your team and why this might be a good time to make a move, you can create a compelling narrative to appeal to a potential candidate.
Here is a sample message that illustrates the personalization: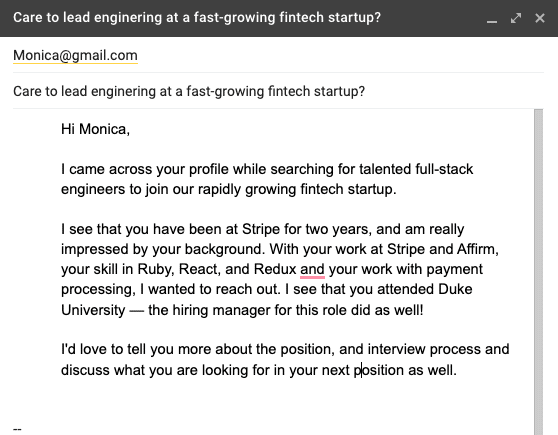 For more strategies, here is our article on crafting compelling outreach messages.
4. Consider looking into passive technical talent candidates
Only 3.4% of software engineers are unemployed and actively looking for a job.
Though this statistic may sound scary to recruiters, many currently employed software engineers might be persuaded to make a move.
By reaching out to passive candidates, you can control the quality of your talent pool and find many qualified candidates for your roles.
Besides hyper-personalizing your email, a great way to increase your chances of persuading a passive candidate to take a call is to refine your messaging pitch points.
Some examples of effective pitch points are exceptional funding, backing by top VCs, rapid growth, opportunities for leadership, a trendy domain (such as green energy or fintech), exciting new technologies such as AI or ML, and unique benefits.

Howard Lazarowitz, a Senior Technical Recruiter at Copado, A Low-Code DevOps & Testing Platform, also had this advice: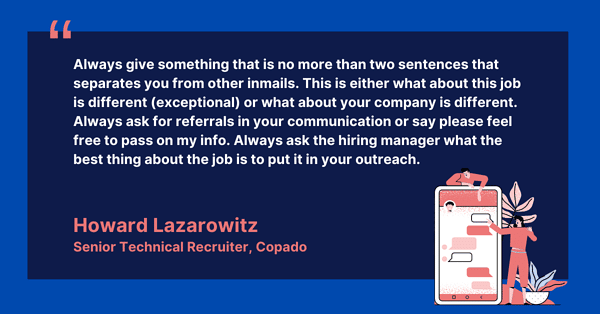 5. Know where tech talent hangs out
Asking your colleagues and contacts for referrals is one effective way of finding passive candidates, with 85% of jobs being filled through networking.
To creatively source tech talent, you might also consider spending some time where developers hang out. For example:
online communities such as GitHub and Stack Overflow
tech forums on websites such as Reddit and Quora
Linkedin and Slack groups for engineers
online or local technology conferences and expos
6. Have a complete understanding of hiring manager needs
Besides asking for a thorough Job description, it's also important to discuss with the hiring managers to understand the role the candidate will play on the team, including:
The responsibilities of the role
What they are expected to bring to the table versus learn on the job
The targeted candidate profile includes ideal seniority level, technical skillset, background, and culture fit
The must-have qualifications versus nice-to-haves
Though you can keep track in a word document or excel sheet, adding these details to your CRM will ensure you and your teammates have easy access to the information moving forward.
This small investment of time upfront can pay significant dividends, as you can focus your efforts on candidates your hiring managers will really want to talk to.
7. Streamline your hiring and recruiting process
Strong tech candidates are inundated with companies wanting to talk to and hire them. Unfortunately, the longer the hiring process extends, the more likely the strongest candidates will receive other offers and drop out of the candidate pool.
By reducing inefficiencies in your hiring and recruiting process, you can save time for your own company and improve candidate experience.
If sourcing candidates take up too much of your resources, you can also consider a free trial with an AI solution like Celential.ai that delivers top-notch, diverse engineer candidates, ready to interview within 3 days!
One practical tip is to ensure everyone in the hiring process has blocked off time on their calendar during an interview month to avoid scheduling delays.
Another tip is to plan out the concrete details of your hiring process in advance, to avoid redundant questions or evaluations.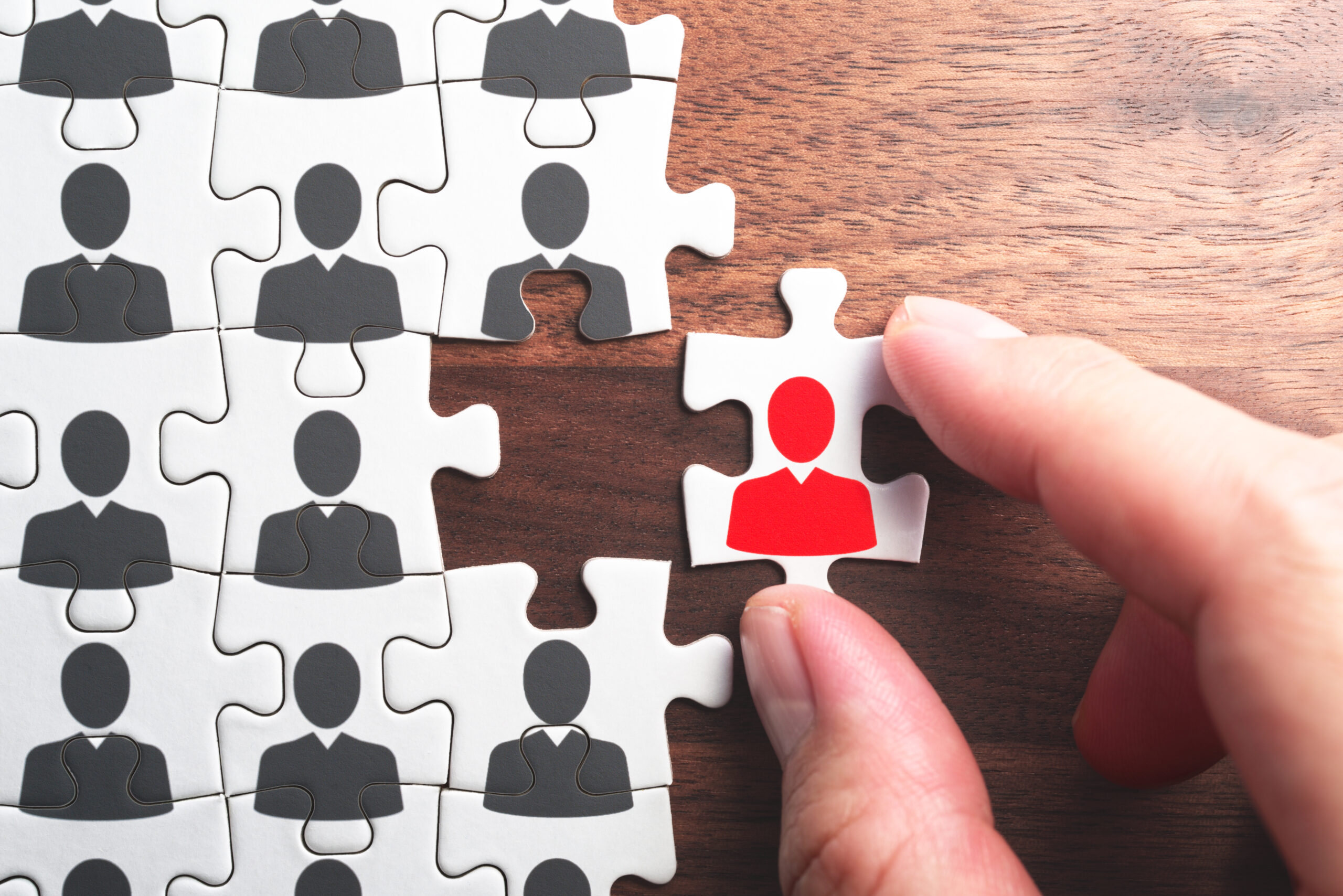 8. Prepare for the interview with all the relevant materials
You don't need to be able to do a coding job to hire for one.
However, being organized, doing your research, and conversing in advance about the role with engineering leadership is a significant advantage. It will allow you to answer general questions that candidates may ask, such as the importance of tech stack match or the day-to-day engineering projects and tasks they will carry out.
Don't be afraid to ask for the support of your technical teammates as well in creating coding challenges and participating in technical interviews.
9. Ask deep questions in the interview to understand culture fit
According to a recent Stack Overflow study, software developers named office environment or company culture one of the top three most crucial career factors.
One way to find candidates who fit your culture is to target companies that share a similar culture to yours.
Deep diving into conversations with candidates about your culture and expectations and how they have demonstrated these qualities in the past can indicate whether a candidate might be a fit.

Jordan Wan, Founder/CEO of Closer IQ, A staffing and recruiting firm that helps sales and engineering professionals find jobs at the world's most innovative tech companies, had this advice: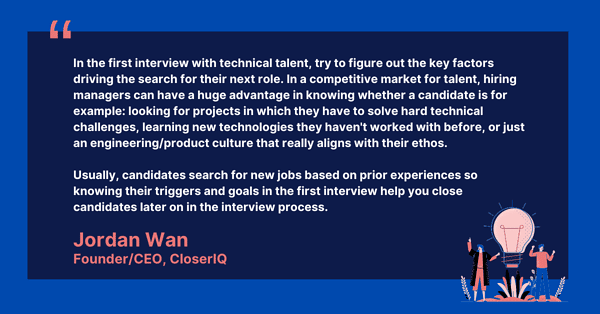 10. Keep the technical skills testing short
Though recruiters fear that coding challenges and the dreaded whiteboard test can discourage candidates, according to Devskiller, 73% of developers do complete the coding tests sent to them.
By keeping your testing minimal and as relevant as possible, you can further increase that ratio.
Another tip is to send the test early in the week, with tests sent on Tuesday gathering the fastest reply. By sending the test before the weekend, you can also signal to candidates that you value work-life balance.
11. Stay up to date on competitive salaries and employee benefits
Market trends change quickly, and it can be a challenge to stay ahead of candidates' expectations. The most in-demand benefit right now is remote work. According to Terminal's 2022 State of Remote Engineering Report, 75% of software developers wanted to work remotely at least 3 days a week.
Our two favorite sources of accurate and up-to-date compensation information are levels.fyi, and LinkedIn Salary. You can share your own salary information for free access, though both companies offer paid options for instant access.
Wrapping Up
We hope you've found this resource helpful in upskilling your recruiting team!
With the demand for tech recruiters skyrocketing, another way to multiply your recruiting team's efforts is to let trusted professionals like Celential.ai take care of the top of the funnel, freeing up your recruiters to engage and close many more candidates.
With our international AI talent graph of 20 million and growing sales and engineering talent, we average a 70% present-to-interview ratio and save companies 50% on their annual recruiting budget.
If you want a complete guide on the technical recruiter role and how to hire one, you can download our eBook: How to Hire Technical Sourcers & Recruiters in a Talent Shortage.