Hands up if you're a founder who tries to do it all?
Biz dev, marketing, finance, customer service, recruitment… a founder's list of tasks is truly never done. But there's a certain truth that all successful startup owners know: you don't have to go it alone.
In fact, once your funding is secured and you're ready to really push forward, then hiring for a startup team is one of the best decisions a founder can make. You want the best people for your growing startup, and here are 5 tips on how to get them:
1. Make your brand shine
Branding isn't just for customers and investors, it can help with recruitment too.
Top talents want to know that they're going to make a difference during their workday — that they'll be onboarded to a challenging and exciting culture and that they'll work within a diverse and energetic team.
The best place to start with this communication is your online presence:
What does your company website say about your culture and vision?
What blog posts do you link to on social media — from which publications?
What blog posts, social posts, and email newsletters do you write and share of your own?

Insider tip >> Startup hires will read what you post online, so make sure it's laser-focused on their needs and interests. Companies who excel in this arena can even find that talent seeks them out — rather than the other way around.
Do you need to work on your brand?
Communicating what your business stands for requires taking a step back and thinking about what you want to be known for and why.
To do so, you can:
Play "This, not that". This branding exercise challenges you to expand your thinking, creating word pairs for what your company is and isn't. For example, you might want to be "forward-thinking, but not risk-taking", or "fun, but not childish".
Read your tweets or LinkedIn posts out loud. Do you like what you hear? Do they sound authentic and befitting of the business you want to be?
Check in with what your competitors are doing. It can help to view and assess how other businesses are presenting themselves, too. Recruitment videos are a great way to explore the market and get some inspiration for your own talent outreach as well.
2. Don't settle for cookie-cutter job ads
When was the last time you were excited by the content of a job ad? The job itself might be exciting, groundbreaking, and a great opportunity, but the ad often reads like a list of hard skills and expectations.
Important? Sure. Inspiring? Probably not.
That's especially true for software engineers and other technical roles, where job postings risk being little more than a long list of jargon, initialisms, and acronyms.
Insider tip >> What you need to do is grab a candidate's attention. You want to make your startup the place they want to work — and the messages you send them now will be a make or break the first impression.
Before crafting your job ads, ask yourself:
What can potential employees expect about working with you?
What culture are they stepping into?
What will they learn and how will they develop?
Founding a successful startup can often feel like non-stop fire fighting, but creating a strategic hiring plan and using this to inform great job ads is worth the extra time investment.
3. Meet your candidates where they are
Happy with your ad? Nice! Now you need to post it…
Where to post your jobs — 3 free job boards worth checking out: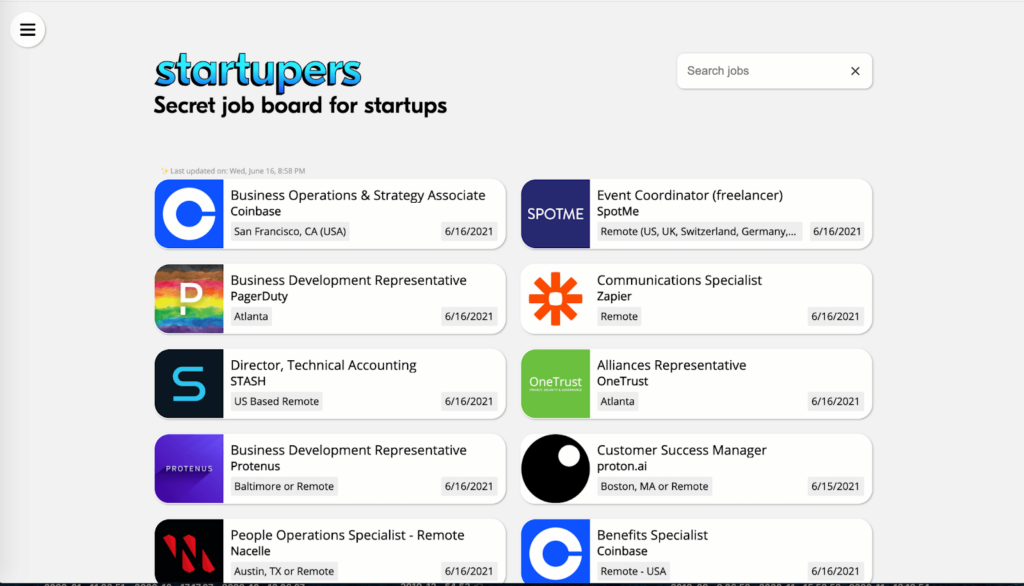 Startupers

– Positioning itself as 'the secret job board for startups', Startupers invites job ads for public posting. All you need to do is provide an email, the name of your startup, a Twitter handle and the name of your applicant tracking system.

AngelList

– AngelList is one of the biggest startup-focused job sites out there. Its free forever pricing tier allows you to post unlimited job listings and reach out to 2.3 million candidates. And with big names like Stripe and VSCO using AngelList to hire, you'd be in good company.
Social media – while this isn't strictly a job board, it's still where top talent hangs out for a lot of the day. Make it clear that you're hiring via your company's LinkedIn, Twitter, Instagram and/or Facebook to spread the word.

Here's how to post a job on LinkedIn

.
Where to post your jobs — 3 paid-for job boards worth checking out: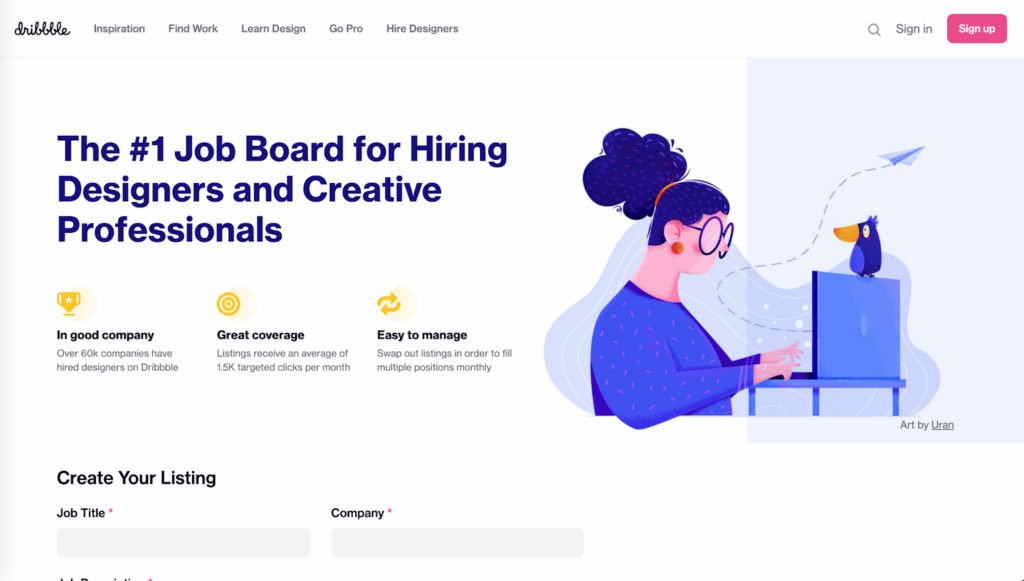 Authentic Jobs

– This site encourages companies to open their job ads with a company bio. That's certainly one way to cut through the noise and make your corporate brand stand out. Standard job listings here cost $149/month.

Dribble

– If you're looking for top design talent, look no further than Dribble. At $299/month you can post to "The #1 Job Board for Hiring Designers and Creative Professionals".

Crunchboard

– Crunchboard has honed in on the tech, startup, and engineering market. The board's success is down, in part, to its wide reach of 12 million

TechCrunch

readers. Each job post runs for 30 days as standard, costing $249.
4. Proactively engage with passive talent
As much as 75% of top-quality talent is currently passive in the market. This means they aren't actively looking for a job and, therefore, probably won't be browsing job boards in their spare time.
Here's how to get their attention anyway:
Post your job ads on social media – Once again, social media proves to be a super useful tool for startup recruitment. Get into the habit of sharing open positions over all your social accounts to bring passive talent in. Consider adding a QR code to your job postings to simplify the application process for candidates.
Network, network, network – Up to

three-quarters of passive candidates

find out about job opportunities through their existing networks. And we're not just talking about social networking either, we're talking good, old-fashioned word-of-mouth as well. Ask around if investors, previous colleagues, friends, and friends-of-friends know anyone who fits what you're looking for.
Focus on early talent – College and university grads are excellent examples of high-potential passive talent. Most campuses hold career events and introductory meet-ups, so book yourself a slot and start these conversations now. Convoy has also written a helpful guide to university recruitment

right here

.
Work with contingent recruiters – This is a good choice if you are short in time to execute the above strategies. You typically pay 15%-30% of the hire's annual salary as a contingent fee. To get the desired results, make sure you 1) select agencies that are more experienced at placing similar roles for early-stage startups and 2) communicate all of your requirements clearly and frequently with them to avoid misalignments.
5. Save time when engaging passive talent with high-tech, AI solutions
Traditional recruiting can take 200 hours of work per new recruit. Has your startup really got that to spare?
Celential's AI-driven virtual recruiting service, on the other hand, can deliver passive candidates in a matter of days.
We recently worked with Monograph, an early-stage software company, to fill their talent pipeline with diverse and highly-skilled engineers. What had been a source of frustration and wasted time for the Monograph team was totally revolutionized — Celential delivered 11 desired interviewees within one week, and within 6 weeks Monograph had made two hires.
Hiring for a startup is make or break, but you've got all the support you need
You'd be forgiven for feeling lost at sea when it comes to recruitment and talent management. Why not leave it to the experts at Celential instead?
Our AI-powered Virtual Recruiter casts your selection net wide
We then engage candidates with highly personalized, automated emails
… and deliver warmed-up, qualified candidates back to you for interview.
It's as easy and hands-free as that. Get started with Celential today.