In today's competitive landscape for tech talent, an exceptional candidate experience is no longer a nice-to-have — it directly translates into your recruiting success. In our recent panel discussion, three prominent talent leaders, Stephani Martin (VP of People @ Affinity), Noah Wisnia (Technical Talent Partner @ Weights & Biases), and Darin Matuzic (Manager of Talent Acquisition @ Flock Freight), shared a wealth of insights, best practices, and actionable tips on how to optimize candidate experience. This panel is moderated by Leslie Loo, Director of Customer Success @ Celential.ai.
Here's a summary of the most important takeaways from the event. You can view the event recording and transcript here.
1. Candidate experience is critical for hiring success
Our panelists first explained the competitive advantages that a robust candidate experience can offer from their own experience.
Your hiring process reflects your company's core values
The way you manage your pipeline and treat your candidates are statements about your company as a whole. Your candidate experience is a microcosm of your values as a team, so make sure it projects the image you want. People will remember — the good and the bad.
The effort you put in will pay off
Candidates are evaluating you just like you're evaluating them, and how you treat them during the candidate experience is definitely going to impact their decision to join you. Our panelists shared their examples:
Flockfreight was able to convince a machine learning engineer with multiple offers to join the team by developing an excellent experience throughout the process. In particular, they addressed the candidate's major question about equity by offering detailed, transparent guidance and an open conversation with their CTO.
"The candidate told us that the hiring experience and how much we cared and wanted to accurately represent the opportunity was why he ended up joining us." — Darin Matuzic
Affinity's co-founder and CEO speaks with candidates either in the opening or closing stages of interviews, and this has made a significant impact.
"It's been really impactful for the candidates to hear from someone who is super humble, has a lot of principles and integrity, and talks with them in a very caring way about what their prospects and impact can be at Affinity." — Stephani Martin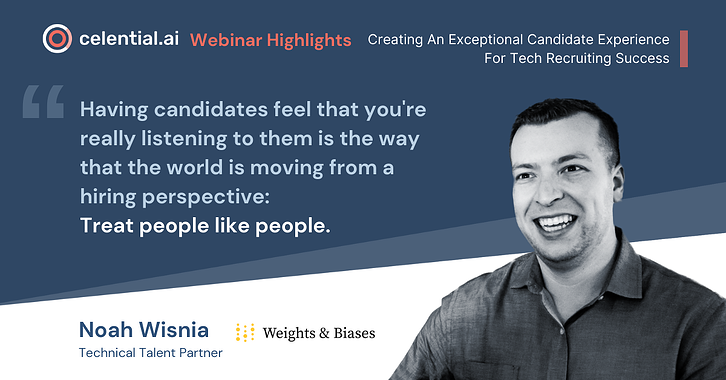 2. Little personalized touches go a long way
Even small gestures of good faith and attention are memorable for candidates — especially so in the remote work environment, we have today. Consider how your company can put a unique stamp on your candidate experience and have candidates exit the interview with a strong positive impression of your brand.
Getting candidates out of an anxiety-inducing "job interview frame of mind" can help them open up and relax more easily. On top of a less stressful experience for the candidate, this can also give you a better signal about what the candidate is like on a normal workday.
Custom decks for candidates with their picture, preferred name, and other small details will show both dedication to the process and respect for those you're interviewing. And if you aren't already, work on incorporating DE&I into this strategy with things like preferred pronouns.
"It was a really thoughtful way to ensure we were being intentional with our practice and trying to achieve our goal at the same time while being very human-centric from the get-go." — Noah Wisnia
There's an extra step you might want to take to welcome them into the company: sending a small welcoming package. Flock Freight's approach? Go the extra mile and gift them something relevant to their interests that they've mentioned during the hiring process, complete with a handwritten note. Showing your appreciation in small ways helps to cement the foundation of the rapport you've built with the candidate through the pipeline.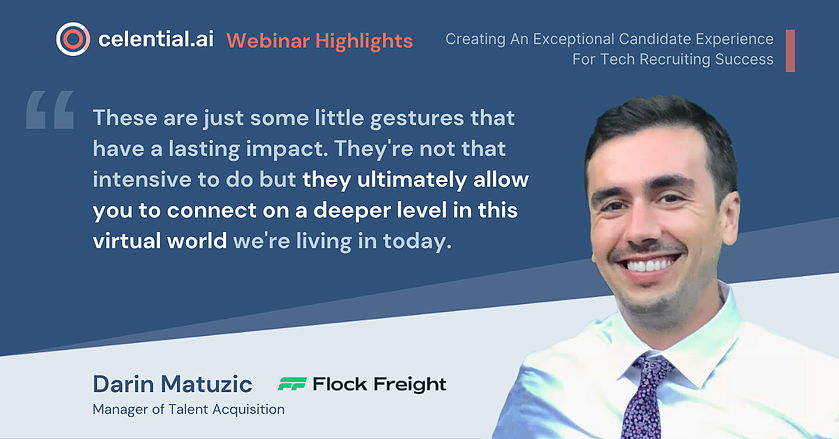 3. Build a strong first impression
We've all heard it — first impressions are everything. Have a second look over your first impressions and see where you might improve, starting with branding.
You've already made your first impression before the first call with a candidate — your reputation precedes you. Having a good grasp on how you come across to candidates before they reach you provides a positive launchpad. Consider reviewing your job descriptions, your Careers page, and social media and whether it's reflecting everything that you want your company to stand for and be known for.
"The Careers page is the first thing that people do in their pre-dating experience — go to our website and see what we're all about. Really spending some time working with marketing and design to ensure that our Careers page is reflective of us was really important." — Stephani Martin
Your candidates are likely receiving plenty of messages from other companies. So how can you stand out? By getting to the point quickly: give a quick overview of your company, the intended role, and why you think they're a great fit based on their specific experience and expertise. Solutions like Celential.ai can help you create highly customized messages and stand out among the crowd.
Before the first conversation, send your candidates an organized, succinct list of resources to make it easy for them to understand who you are. If possible, include an introductory video about your team to tighten up the connection. It can be as polished as Flock Freight's promo clip, or just a simple Zoom recording. This pre-call package can save you hours of time selling your opportunity — the primary focus of your first call.
"Make your first call about getting to know them, validate the must-have skills while having a conversation, not an interrogation." — Noah Wisnia
4. Speed up the hiring process
Speed is a core part of a good first impression, but efficiency doesn't lose its value in any other stage of the hiring process. Every hold-up in the pipeline could be costing you candidates — not to mention wasting the time of your hiring team.
Optimize for candidate experience first
It can be tempting to ensure that your hiring team is optimizing for their own operational efficiency. But keeping your candidates happy and moving forward through the process is more important in the long run. Start with the candidate experience first — are there lengthy and/or tedious aspects where you see a noticeable drop-off in the pipeline? If so, are there any changes you can make? Flock Freight once had a take-home assignment requiring 4-8 hours to complete and it caused 50% of candidates to drop off. By replacing it with a 90-min on-site programming exercise, they reduced drop-off to 20% and cut time-to-hire from 60 days to 30.
"Just being thoughtful about how to get the same signal in fewer steps and removing complexity from the process can do a lot." — Darin Matuzic
Be as transparent as you can about your process
We're not saying you need to reveal anything proprietary or give up any negotiating chips. The problem is that long stretches of silence from employers will prompt candidates to explore their other options — the ones who are replying to them quickly. If your process is stuck because of something out of your control, like a reference check or an external hiring agency's delay, pass what information you can about it to the candidate. They'll appreciate being kept in the loop and you will avoid having your company's name melt in with the rest.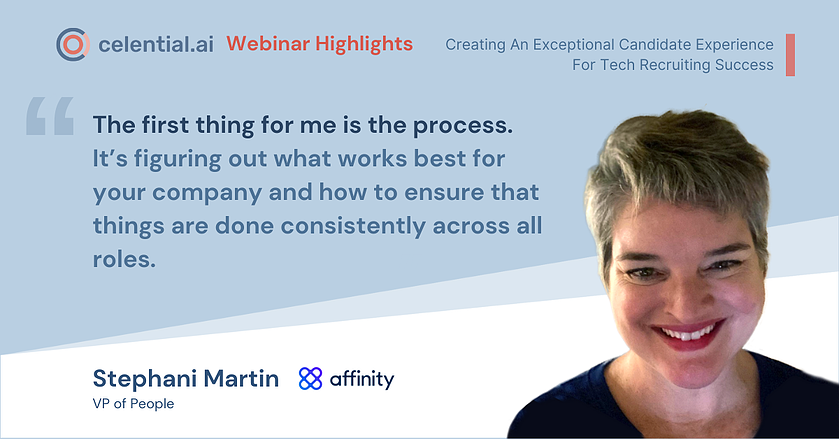 5. Tools and Techniques
Strategies and advice are all well and good, but with optimization comes a plethora of tools and resources to help you create a great candidate experience. Here are a few highlights.
Build A Repeatable, Transparent Internal Process
Before we get into specific tools, your toolbox has to be sturdy first. Our panelists advise establishing a clear, consistent internal process before you start trying to layer software and other solutions over it. Give your interviewers a rubric for how to evaluate a candidate, make sure each candidate goes through the same steps of the pipeline, and ensure every part of your back-end procedure is rock solid.
Find the right Applicant Tracking System (ATS) and optimize it
Analytics is critical for HR practitioners to understand the process and address its challenges. ATS is a powerful tool to manage your pipeline and track the metrics. Make sure to evaluate the strengths of different solutions and the specific needs of your team to make the best choice. Once you've settled on a solution, it is equally important to leverage available resources to unleash its full potential.
Misc. Tidbits
Here are additional tools and tricks of the trade our panelists shared during the webinar.
If you're a small team without a fleshed-out hiring department, consult an HR legal resource to make sure you're operating in accordance with different local, state, and federal hiring regulations.
Glossary Tech is a great Chrome extension for recruiters who don't have as deep of a technical background.
Between the two popular ATS choices among tech startups, Lever is optimized for recruiters, and Greenhouse is built for volume.
The TalentWall overlay solution for ATS is a winner, allowing you to visualize your pipeline and intuitively organize candidate data with "candidate cards".
Shadowing recruiting calls is a great resource for new and experienced recruiters alike.
As a tech recruiter, don't be afraid to ask your engineering team for help with technical questions — just be respectful and come prepared.

---
About Celential.ai
Celential.ai offers an AI-driven Virtual Recruiter service that sources, vets, and engages top-notch, diverse candidates for technical and sales roles. We deliver ready-to-interview candidates to customers directly. No learning curve. Just results! Request a demo to learn more or try it now with your open role!
Speaker Bio
Stephani Martin, VP of People @ Affinity
Stephani Martin is the Vice President of People at Affinity, the leading relationship intelligence platform. With over two decades of experience leading Human Resources roles at high-growth technology companies, she is a dynamic HR leader who is passionate about creating a positive, supportive environment in the workplace. Affinity is recognized as one of Inc. 5000 fastest-growing companies and FORTUNE's best workplaces in 2021.
Previously, Stephani served as VP People at Distil Networks (acquired by Imperva), VP People Operations at Platfora (acquired by Workday), and VP People & Culture at Boost Media. Stephani holds an MBA from the University of San Francisco and a B.S. in Journalism from University of Colorado Boulder.
Noah Wisnia, Technical Talent Partner @ Weights & Biases
Noah spent the first half of his career in Product Management before finding a deep calling as a Relationship driven Recruiter. A multifaceted career, he's gone from architecting multimillion-dollar financial platforms to growing startup teams 300%+ YoY through seamless tech-enabled hiring. With happy hires at over 550 startups, he considers himself especially fortunate to have experienced being the 2nd and 14th hire at startups backed by Y Combinator and Forerunner Ventures, respectively. Outside of work, Noah can be found volunteering his time as a speaker at conferences, mentoring/career coaching people in pursuit of lofty professional goals, giving product feedback to startup founders, and outdoors either skiing or grilling up a meal with his family.
Darin Matuzic, Manager of Talent Acquisition @ Flock Freight
Darin leads talent acquisition for Flock Freight, a technology company focused on reinventing the freight industry and eliminating waste and inefficiency. An LA native, he moved to San Francisco in 2012 to explore a career in technical recruiting and quickly realized he had found his calling. Darin has worked with 50+ start-ups over the span of his career to navigate the competitive landscape of today's talent market and hire top engineering talent, both in-house and as an independent consultant. Since joining Flock Freight in August of 2020, Darin has been focused on building an A+ recruiting team and a world-class talent process. In 2021 the company grew from 110 to over 330 full-time employees and has plans to at least double in the coming year.
View full webinar recording and transcript: