With WFH and remote work increasingly becoming the norm for many tech workers, more talent has been activated than ever before — but the competition is more fierce than ever, too. As you're looking for new employees or employers, we have a 5 diversity in tech statistics about women to give some context to the current hiring landscape for both employers and candidates.
Interested in learning more about the data behind diversity in the tech industry? Download our report: 2022 Gender Diversity in Software Engineering.


1. The number of women in software engineering roles decreases as seniority increases
We're starting off with a sobering statistic — while it is male-dominant across all levels of software engineering (SWE) roles, data from our Talent Graph shows that the gap becomes more and more prominent as the level of seniority rises.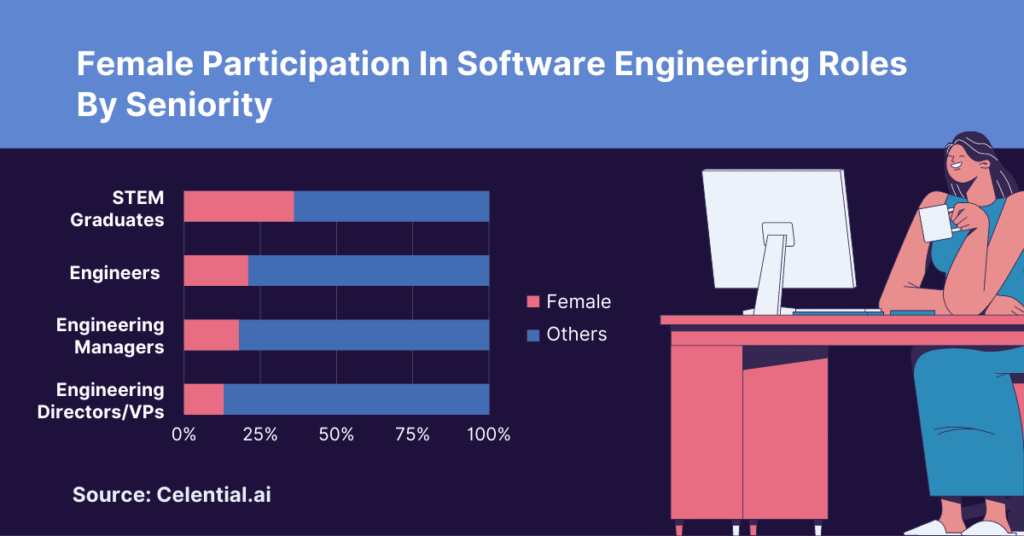 A lack of women in leadership roles generally leads to lower levels of financial success and is a compounding factor in women leaving tech roles due to a dearth of female mentors. C-suite execs should keep this in mind when it comes time to decide on promotions.
For women in these upper-level SWE roles, this situation may present an opportunity to push for one of those promotions or to make a jump to another company that comes with an elevation in seniority and, ideally, a supportive environment for advancement. Just remember that "it's one thing to be promoted — it's another thing to stay," cautions Julie Nugent, SVP at Catalyst. "When the structures and systems themselves don't exist that are favorable for underrepresented groups, they will not stay."
2. Attrition rates for women in tech roles are disproportionately higher than for men
With only 30% of women with engineering degrees still in engineering 20 years later (and 30% of those who left citing organizational climate), these women move to either a non-technical position or leave the workforce entirely — a rate that some sources put at more than 2x the rate of men in similar roles.
There are many potential reasons for any of these instances, ranging from actively hostile and/or biased work environments to little opportunity for promotion, few to no female role models or mentors, or having to become a full-time caretaker for children, among others.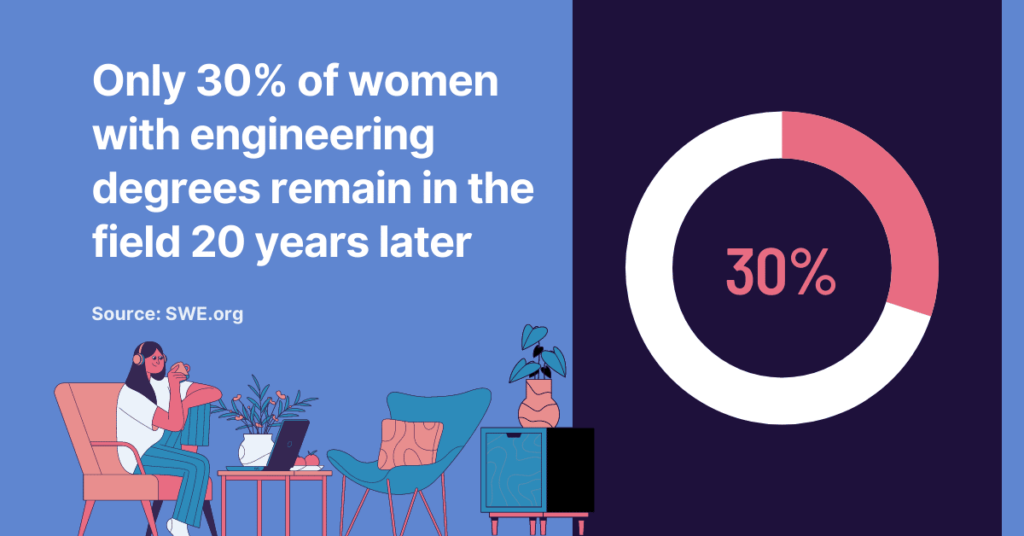 There are many approaches employers can try in order to tackle this retention problem, but a more comprehensive angle is probably to start by actually talking to the women in your organization who are in technical roles and creating a safe dialogue to ask about what hurdles they're facing.
Put emphasis on gender diversity-specific problems — bias, lack of mentors, opportunities for advancement, flexible benefits like PTO or child care stipends, etc. Working from those responses will likely prove more fruitful than trying to implement a catch-all gender diversity initiative that may be too cumbersome to roll out all at once or prove to be too generic.
3. University pipelines for Engineering degrees show little promise in improving gender diversity on their own
A recent Pew Research study on racial and gender diversity in STEM revealed that women earned only 22% of bachelor's degrees in engineering and 19% in computer science, and no more than 30% of master's and doctoral degrees in the same fields.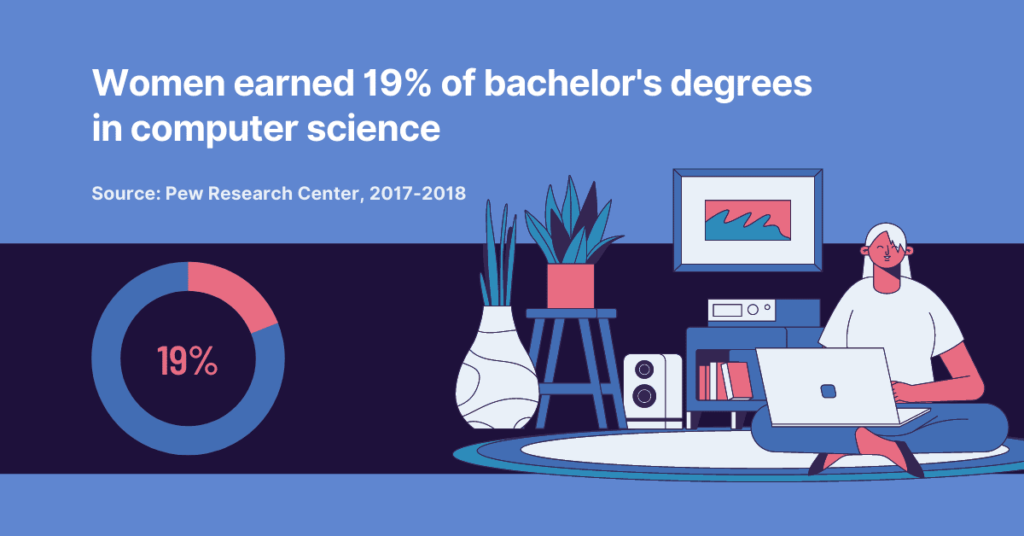 For tech employers with pipelines or partnerships with universities, putting in the work to make women feel welcome, valued, and included in outreach or interview processes will likely be valuable in increasing interest from those applicants.
For women currently in college or about to graduate in these fields, take notice of companies that do — and don't — make an effort to resonate with your situation. It's a good signpost for how the day-to-day experience will be at these companies.
4. Remote work is an exceptional opportunity to offer flexible scheduling for women, especially engineers
Building on points 2 and 3, COVID-19 has exacerbated the care-taking responsibilities of women even more than before, with 51% of respondents shouldering educational support and 46% taking on adult or elderly care.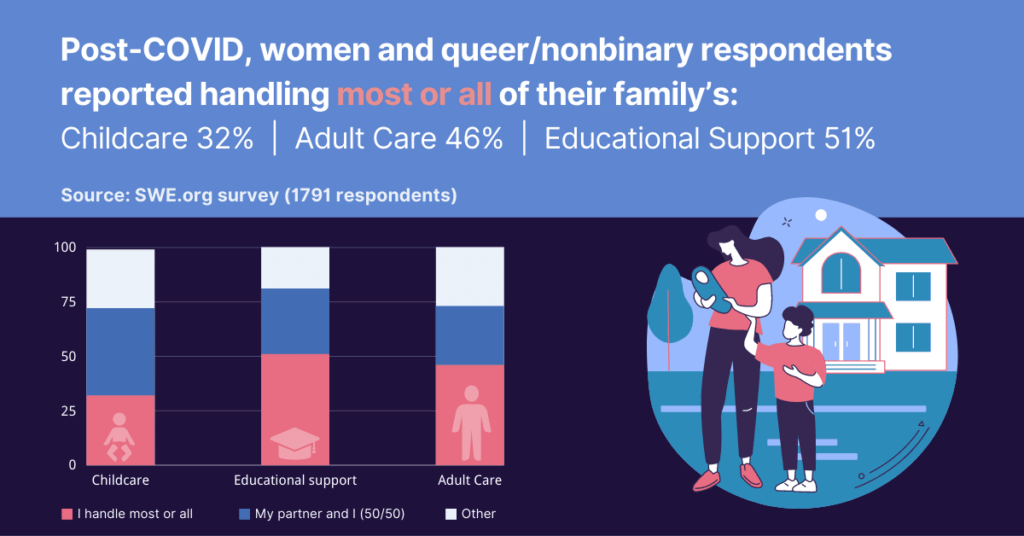 For women in engineering roles specifically, remote work is a fantastic and desperately needed way to allow flexibility for this increase in responsibilities as all core work functions are easily accessible in an online environment. And, naturally, incorporating remote work and family-friendly benefits increases attraction and retention rates for women in technical roles.
5. "A Commitment from Leadership and a Commitment to Data": A Two-Pronged Approach to Diversity is Most Effective
This point is not necessarily particular to tech companies or SWEs, but given the serious gender diversity and DEI issues that tech companies specifically suffer from, it bears examining.
A collaborative research study from Harvard Business Review Analytic Services, the Society for Human Resource Management (SHRM), and regulatory compliance software company Trusaic identified top-down DEI initiatives combined with consistent analytics to be the ticket to a welcoming and inclusive workplace.
Kathi Enderes, SVP of research at The Josh Bersin Company, points out that "when the CEO sets the strategy and frequently communicates DEI progress, the company is 6.3 times more likely to have a diverse leadership team and is also more likely to be a leader in its industry segment."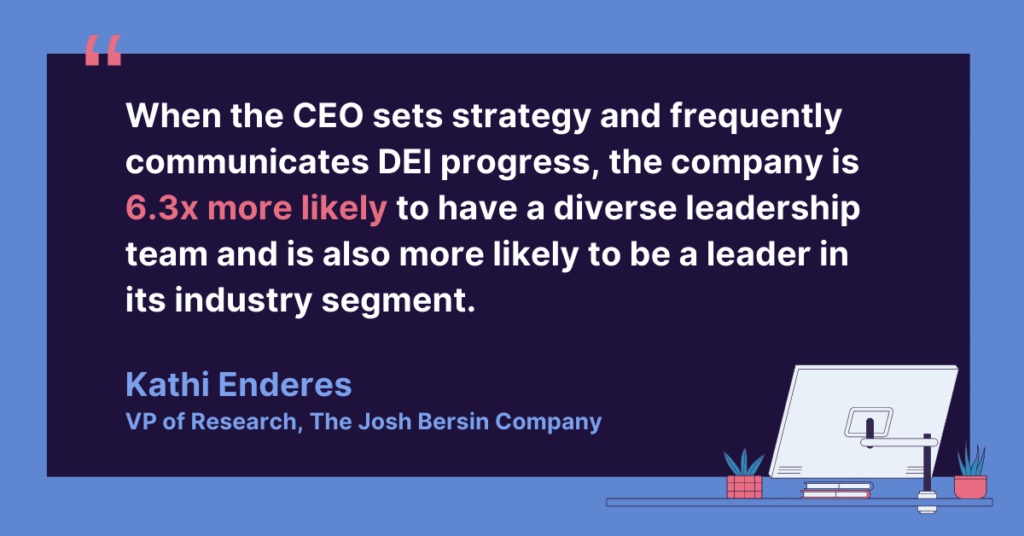 Employers should consider doing just that: have a c-suite meeting about a point person to collect, analyze, and communicate DEI findings to the company and potentially to publish for external consumption — or maybe you decide it's time to hire a head of DEI if you don't already have one.
Equally or even more importantly, give your employees channels to express their thoughts and feelings on DEI at your company. Regular opt-in surveys, safe and secure ways to report discrimination or harassment, and other ways to collect feedback will be invaluable in getting a sense of your company's DEI atmosphere.
Employees should look for the same qualities in prospective employers — dedicated DEI commitments from leaders and tangible data to back it up. If you aren't currently considering a job switch but find the DEI environment at your workplace lacking, think about how you might be able to communicate this to upper management or enact change — it has to start somewhere!
---
Whether you're a woman in software engineering, upper management at a tech company, or a tech recruiter, we hope these gender diversity statistics were valuable to you.

Interested in learning more about the data behind diversity in the tech industry?
Download our report: 2022 Gender Diversity in Software Engineering.
Don't have enough time? Read the blog summary here.
If you're having trouble sourcing or attracting diverse talent to your tech roles, we can help — schedule a demo with us.
---
Research for this piece was contributed by Lauren Dixon.