Recent economic uncertainty, extremes in the labor market, and rapid shifts in how we work have made it challenging to plan to hire and create talent acquisition strategies for growth — particularly for early or growth-stage startups.
In our recent webinar, "2023 talent acquisition planning for startups and scale-ups", guest speaker Luan Lam (Chief People Officer at Harness) shared actionable insights and best practices in his presentation and a fireside chat with Wendi Zhang (VP of BizDev, Ops, & People at Celential.ai).
Here's a summary of the most important takeaways on how talent leaders and business leaders can plan their headcount and resources to meet their growth goals and set themselves up to emerge with a stronger team in 2023. You can view the event recording and transcript here.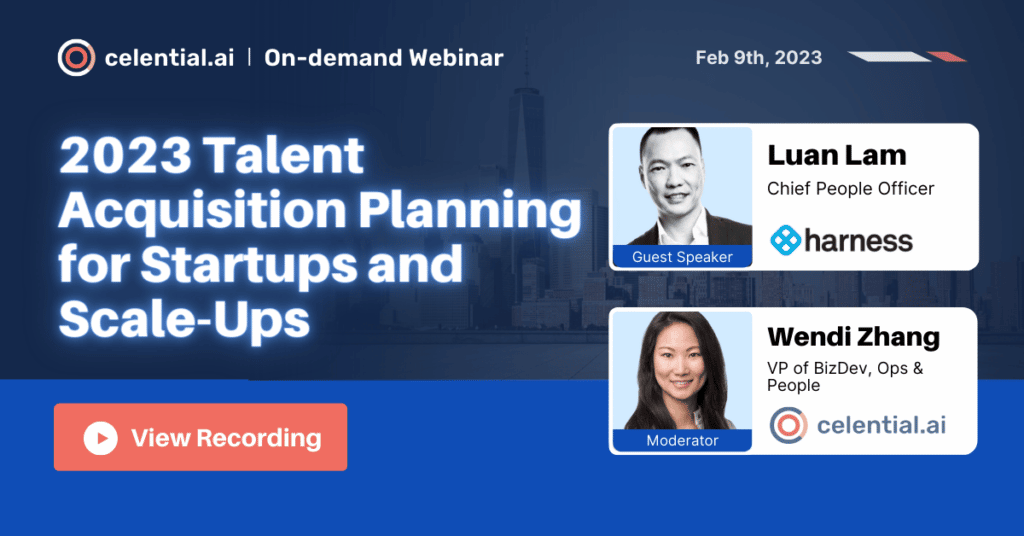 Featured speaker: Luan Lam
Luan Lam is Chief People Officer at Harness, a high-growth startup disrupting the software delivery market. Luan has a successful track record in scaling technology companies such as Informatica and AppDynamics. At AppDynamics, he led Global Talent Acquisition & Operations to scale the company from 150 to almost 2,000 employees. He also serves as a talent advisor to Unusual Ventures.
Luan's thoughts on the art and science of recruiting have been featured in publications including Forbes, The Wall Street Journal, and the Guardian.
What is Talent Acquisition?
Talent acquisition is the sourcing, recruiting, and hiring of skilled individuals to fill open positions for which they are a mutual fit. It also encompasses other strategies for attracting and retaining top talent, such as employer branding, referral programs, and Diversity, Equity, Inclusion & Belonging (DEIB) initiatives.
#1 Use data to get executive buy-in on a budget
One of the hot topics in talent acquisition right now is how to justify your recruiting budget with executives. When we asked our webinar audience about their most significant challenges of talent acquisition planning in 2023, 50% said a limited budget.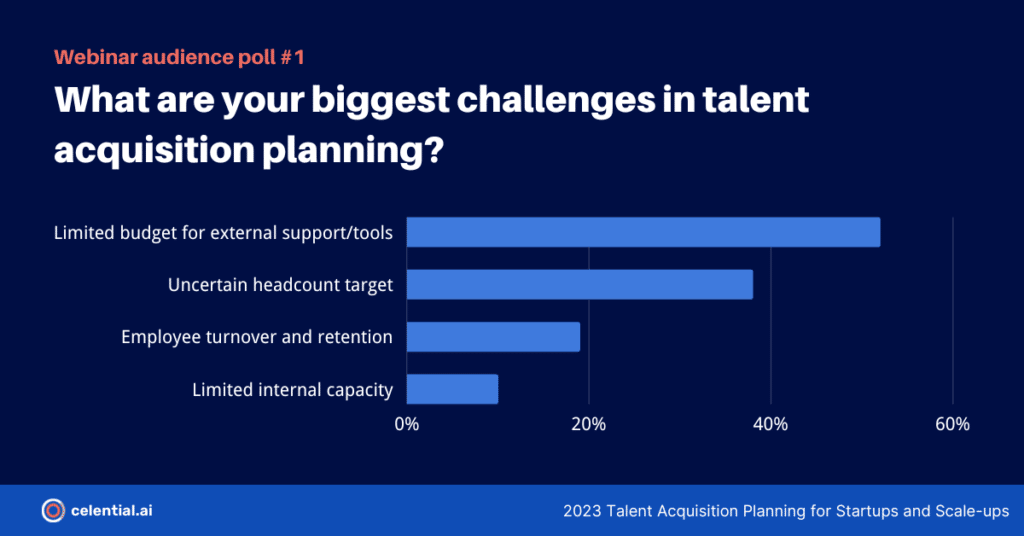 With data being the language of the C-suite, Luan Lam shared some concrete tips for securing the resources you need to meet your hiring targets.
Work backward to determine how many recruiters you need and how long it will take
If you have 100 open reqs to fill in one year and an average recruiter can make two hires per month, you'll be able to fill your open roles with around 4 recruiters. (The math will vary depending on the difficulty of the role, the seniority of the recruiter, and whether the role is technical or not.)
Data doesn't lie — coming in with these numbers will get you a seat at the table when making a case for the resources you need.
For example, if you only have 2 recruiters in your budget rather than 4, it's easy to make the case that it will take twice as long to fill your open roles. And no CEO will want that when hiring slows everything down in the business, from developing new features to winning deals with customers.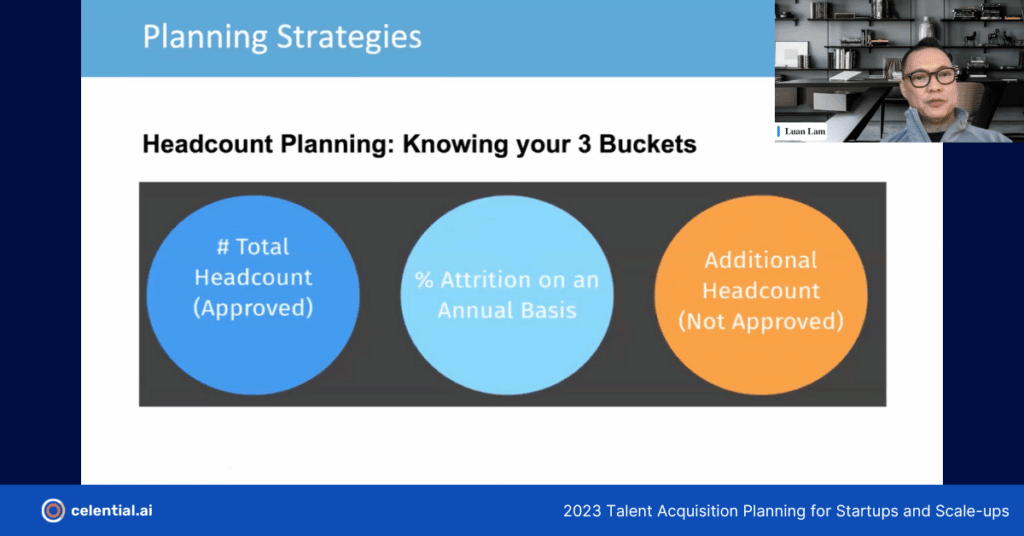 Don't forget to account for attrition and unplanned hires in your talent acquisition strategy
Many companies fail to consider the employee attrition rate, which is 13.2% on average for the tech industry. If you plan to make 100 new hires, but 13 people leave, you'll actually need to make 113 hires.
Companies in growth mode often have to account for additional headcount not in the original plan. For example, if more deals are coming in than you expected, you may need to hire more salespeople to support the new accounts.
If your hiring plan and talent acquisition strategy doesn't address these headcounts in addition to the ones in the projected plan, you will miss your hiring goals.
View our webinar recording to learn Luan's complete guide on talent acquisition planning strategies (headcount planning, resource planning, and capacity modeling), and his unique RaaSP (Recruiting-as-a-Sales-Process) approach to defining the talent acquisition process.
#2: Advocate for your teams to stay intact even when hiring is on pause
Letting a talent acquisition team go during a downturn is often shortsighted. You'll have to rebuild your team in a few months when hiring picks up again, and meanwhile, the recruiters you've selected, onboarded, and ramped up have all landed at other companies.
But if you're not hiring, how do you justify keeping your recruiters on board with your executives? The best way is to plan projects now that will impact the future. Here are some of Luan Lam's quick tips for arming Talent Acquisition leaders to justify keeping their teams.
Implement hiring process improvements and explore new technologies
One idea is to develop a program to train new hiring managers on the right way to conduct an interview or to sharpen the skillsets of your regular interviewers. You can also look at your candidate assessment system — how do you rate candidates, what does the feedback look like, and how do you create consistency across your teams?
This is also an excellent opportunity to look at your talent acquisition technology stack and research the latest and greatest TA tools. Your current tools may be performing well enough, but maybe you can find something that performs ten times better. If so, it's a great time to start planning for the budgeting process and plotting out the logistics of making a switch as part of your talent acquisition strategy.
Tip: Does talent acquisition get easier during a downturn?
Many assume that talent acquisition gets easier during a downturn when more candidates enter the job market. However, the importance of skill fit and culture fit means that finding the right person to hire is challenging, no matter the state of the economy.
Because layoffs often occur on a "last in, first out" basis, candidates are often more hesitant to move in uncertain economic times — meaning the best talent may need a little more nurturing.
#3: Prioritize internal mobility because it is critical to employee retention
A successful talent acquisition strategy comes down to retention — it's much easier to retain someone than start a new hiring process to find someone new. So how do you do it?
Prioritize checking in
A regular one-on-one with a hiring manager and a commitment to frequent feedback can help employees stay engaged and feel trusted.
And recruiters aren't off the hook once a candidate is hired. Sometimes candidates are more comfortable talking to a recruiter versus the managers or the HR team because that relationship predates their entry into the company. Recruiters can find out a lot this way and prevent someone from leaving the company.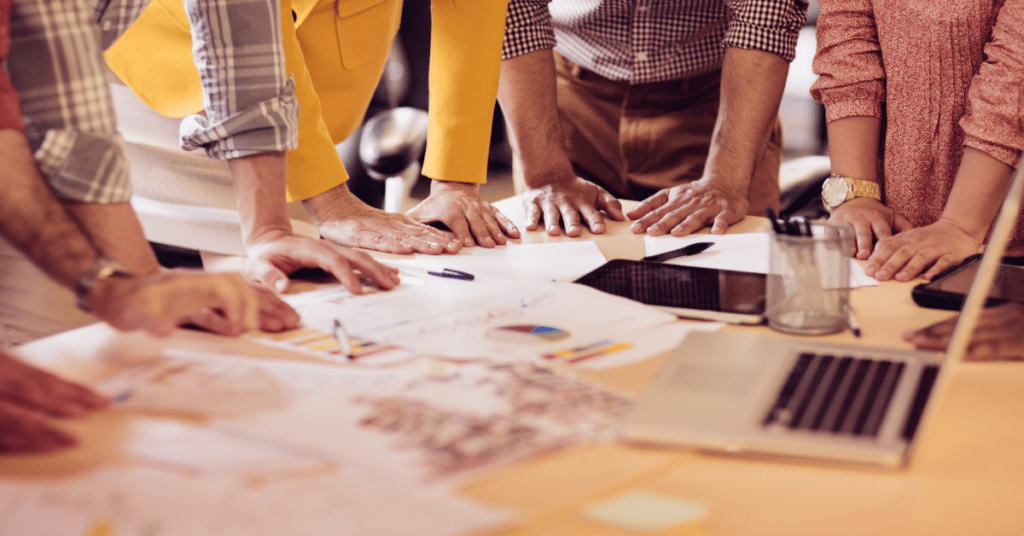 Educating hiring managers on internal mobility
Managers can be one of the most significant barriers to internal mobility, whether it's because they are afraid to lose talent to other teams or whether they have a persistent preference for hiring externally.
That's why a successful program starts with educating hiring managers on how internal mobility isn't just good for employees. It increases retention, motivation, and productivity — and you shouldn't think of it as losing someone when you may be gaining top talent from other teams.
#4: Build and maintain a solid remote culture
Here are some of Luan Lam's tips based on his experience building a robust remote-first company culture at Harness.io.
Build personal connections right from the beginning
It's a problem when Talent Acquisition and HR teams become siloed — bridging the gap between the candidate journey and the employee journey is essential.
For example, a recruiter can smooth the transition by showing up on a hire's first day to show them around and ensure a familiar face is there when they walk into the lobby.
Assigning a buddy is another great way to ensure new hires get the information they need to do their job and make a quick personal connection with someone on the team.
Prioritize in-person and virtual events
While we support remote-first culture, getting together in person on occasion can strengthen relationships and help team members feel engaged.
Virtual events — from an Italian homemade cooking class to a virtual escape room — are also great options.
Tip: What are some technologies that can help build strong remote culture?
A few recommendations:
Donut: virtual water cooler chats
Awardco: employee recognition and rewards software
Caveday: virtual coworking sessions
#5: Fix inclusion problems early in the hiring process
Sometimes, diverse talent may not come to you. However, you can go to them — that's why it's crucial to build a budget around DEIB hiring initiatives, create inclusive job descriptions, and make a proactive plan for diversity talent acquisition strategies.
It's not just about gender diversity — go after all diverse talent pools
While gender diversity is essential, it's not the only kind of diversity. Diversity includes underrepresented candidates of every race, ability, age, sexual orientation, and religion.
Some great ways to build diverse talent pools include partnering with programs such as Women In Technology or Blacks In Technology or running advertising campaigns on social media. It may require an upfront investment, but DEIB is core not just to talent acquisition strategies but to your company culture and brand.
Consider using AI sourcing tools to improve the top of your funnel
AI sourcing solutions such as Celential.ai can boost diversity in your candidate pipelines by identifying overlooked search areas and proactively targeting passive diverse talent.
With sourcing and outreach taken care of, recruiting teams are freed to ensure good candidate experience and maximize the chances of closing a hire.
#6: Know when to use external agencies in your talent acquisition process
It may make sense to use an external agency to supplement your internal team when you don't have enough resources to meet your headcount targets. An agency can also help show you the ropes when looking for talent in a particular region or for a role you have never sourced before.
While eventually, you'll want to hire a member of your internal team to cover these roles, it's not inherently wrong to use an agency on a short-term basis to cover interim gaps in recruiting knowledge and resources.

We asked our webinar audience what their primary methods for talent acquisition were, and 57% said Networks and referrals. Goes to show that "who you know" still plays a crucial part in how people find jobs and recruiters fill roles.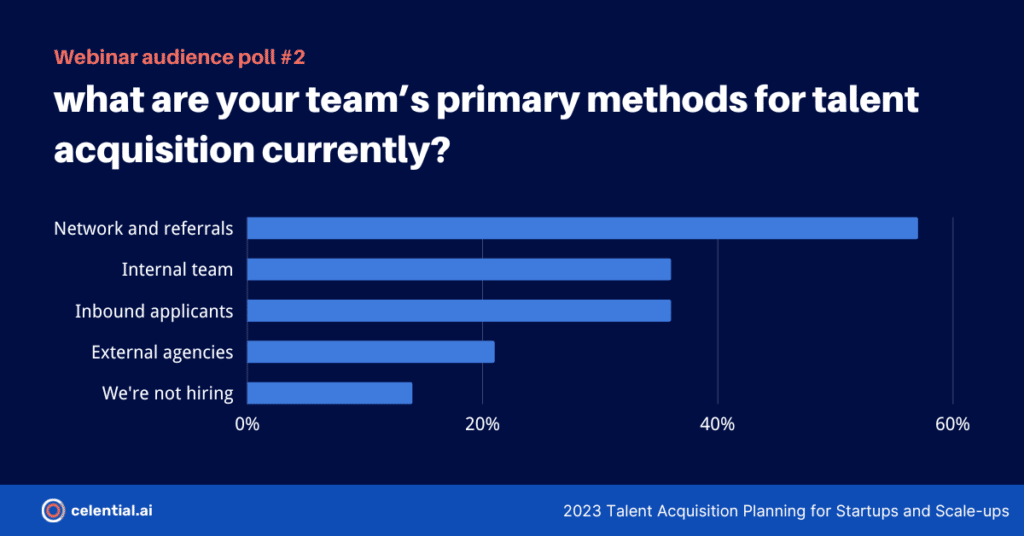 #7: Understand the fundamentals of building a strong employer brand
Luan Lam builds great employer branding by telling a compelling story that operates on three levels:
Technology: what tech is your product built on, and what problems is it trying to solve?
Market: how big is your market, and what is the potential for your company to capture it?
People: what are your core values, and why does someone want to join your company?
Tip: Don't forget the visuals. Photographs and even videos of your team can really help your careers page or social media profile stand out to candidates because they give a glimpse into your company's personality and day-to-day life.
Before you go to a restaurant, you look them up on Yelp — candidates do the same thing with employers. Boosting your presence on LinkedIn, Glassdoor, Tiktok, and other social media outlets is a critical part of an effective talent acquisition strategy, and now is the time to do it.
You can also build your brand by helping job seekers. For example, you could run a session on how to land a dream job, how to improve resume writing skills, how to navigate job boards, or how to get noticed when applying to a company.
Talent Acquisition vs. Recruiting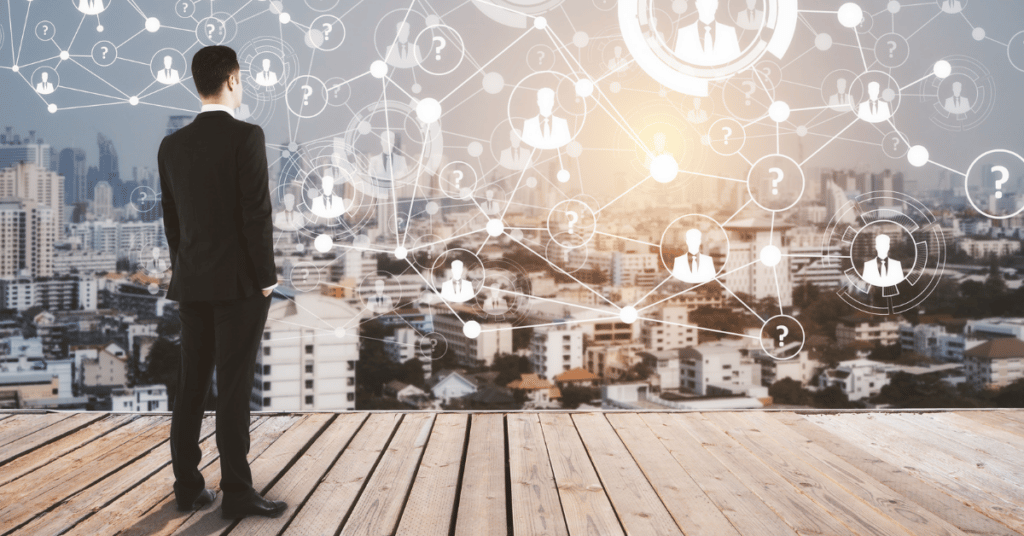 Recruitment and talent acquisition… how do they differ?
Recruiting, the process of sourcing and selecting qualified candidates to fill a specific job opening is a subset of Talent Acquisition. It includes writing job descriptions, advertising on job boards, managing job postings, finding qualified candidates, screening potential candidates, managing employee referrals, providing candidate feedback, and managing job seekers in an applicant tracking system.
Talent Acquisition is a broader term that encompasses building a long-term workforce strategy. Talent Acquisition specialists are involved not just in recruiting top talent but also in employer branding, building talent pipelines, scaling hiring processes, onboarding, talent management, crafting a talent acquisition strategy, and optimizing the talent acquisition process.

Interested in learning more?
Check out the entire webinar for more specific tips and actionable insights on headcount planning, budgeting, talent acquisition strategies, influencing business executives, and building great culture and brand:
Wrapping up
Celential.ai offers an industry-leading technical sourcing solution that builds robust pipelines of ready-to-interview tech candidates in 3 days.
Powered by AI with humans in the loop, Celential has delivered thousands of candidates for companies of all sizes and sectors with 80% matching accuracy and up to 50% cost savings.
Request a demo to learn more, or try it now with your open roles!