If you've been affected by tech workforce layoffs, you're not alone. 147,000 tech workers have unfortunately lost their jobs so far this year, as we head into the halfway point of 2023.
While a job loss may be out of your control, it's important to remember that there are concrete steps you can take to weather the storm and set yourself up to thrive.
That's why we put together this essential guide covering exactly what to do if you were affected by tech layoffs and how to do it. From immediate actions like filing for unemployment and securing health care coverage to expert career advice on standing out to potential employers, we have you covered every step of the way.
Actions to take immediately
Being laid off from a job can feel like a whirlwind, and it's completely normal to feel a range of emotions from anxiety, anger, shock, to even relief.
But amidst these feelings, it's crucial to remember that there are some quick practical steps you can take right now to protect yourself, meet your basic needs and navigate the transition.
Understand your severance agreement
Once you are laid off, severance offered by your employer is often the first topic to consider. Here are the most common questions and important points to keep in mind.
Will I get a severance agreement? While it's not usually legally required, an employer may provide a severance package to employees who are laid off both as a gesture of goodwill and to legally protect the company. If you're unsure whether your company offers severance, consider consulting your employee handbook or directly asking your HR department.
What is a typical severance package? While it varies from company to company, unemployment compensation and severance benefits often include an amount of pay depending on how long you've been with the company, compensation for unused vacation, and/or an extension of health care benefits.
Are there any disadvantages to signing a severance agreement? If your employer offers you a severance deal, it's important to consider the benefits versus the legal obligations involved in the contract. A severance package may include a non-disclosure agreement (NDA), noncompete clause, or provisions in which employees agree not to disparage or sue the company.
Can I negotiate a severance package? In many cases, yes! There's typically no harm in asking. You may be able to negotiate for a higher amount of severance pay, or benefits such as stock options or longer insurance coverage. If possible, take the rest of the day before signing to understand the contract and assess your financial situation.
Do severance packages affect unemployment? This depends on the state and the terms of your severance agreement. However, in most cases, severance is not considered income for unemployment purposes — meaning you should file for unemployment immediately after being laid off.
If you have any questions regarding your severance agreement and any legal implications, you can consult an employment lawyer in your state. Many offer a free first consultation.
File for unemployment
Unemployment insurance programs provide financial assistance to people while they look for a new job.
To qualify, you usually must have lost your job through no fault of your own, be actively seeking work, and meet certain past earnings and/or work duration requirements. You can visit the US Department of Labor website or a Guide to Filing for Unemployment and click on your state for the appropriate link to check your eligibility and file for benefits.
How much does unemployment insurance pay?
Typically, unemployment will replace up to around half of your income — though the exact amount varies based on factors such as the state's maximum benefit limit and the recipient's previous earnings. Unemployment benefits are subject to federal income tax.
The length of unemployment benefits varies by state, from 12 weeks (North Carolina and Florida) to 26 weeks (most states).
Ensure you have medical coverage
Fortunately, you have some options when it comes to your health insurance in the event of a layoff.
COBRA, or the Consolidated Omnibus Budget Reconciliation Act (1985)
COBRA allows you to temporarily continue the same health insurance you receive from your employer in the event of a layoff (or other certain life events such as death and divorce). The coverage period is generally 18-36 months.
The main disadvantage of COBRA is that it's often expensive, as your health insurance premiums will likely no longer be subsidized by your employer, potentially more than doubling your monthly costs.
Typically, terminated employees receive a mailed COBRA notice from their healthcare provider within 2 weeks of being laid off, explaining their eligibility and benefits.
The Affordable Health Care Act (ACA)
Since being laid off is considered an unforeseen life event, you can register for a new plan on the ACA Marketplace outside of open enrollment time.
If you are married, a dependent, or under 26, it may also be possible to join a family member's health care plan.
The right mindset helps when surviving a layoff
While a corporate layoff may feel personal, it's important to remember that they are not. Typically, they result from economic conditions, downsizing, restructuring, industry changes, or other factors outside of your control. A layoff isn't your fault or a critique of your abilities, so much being at the wrong place at the wrong time.
Here are some quick tips to keep in mind when it comes to your post-layoff mindset.
Reduce anxiety by making a plan
Given that finding a new job can take a few months or even longer in an economic downturn, it can be worthwhile to take a look at your numbers. Add up your monthly expenses and compare them to your savings and unemployment benefits to set a budget for the next 3-6 months.
A solid and mathematically sound plan can help reduce anxiety about uncertainty and help you to take a realistic look at whether you need to cut expenses or add income with a temporary part-time job or side hustle.
Practice self-care
In times of stress and change it's more important than ever to prioritize your physical and mental well-being. Even if it's challenging, your body will thank you for keeping healthy day-to-day activities. That includes a regular sleep schedule, eating balanced meals, exercising, and getting outside.
And don't be afraid to lean on the people around you through the grieving process. Sharing your feelings and seeking help from family, friends, and mental health care professionals can help you to process and manage stress.
Why being laid off is good for redefining yourself
In some cases, a layoff can actually be positive or have a bright spot. Sometimes, we stay in unfulfilling jobs just because of inertia or for security. A layoff can be a sign of a dysfunctional company environment — and being laid off can give you the opportunity to reevaluate your career and find a path (and place) that interests and fulfills you.
Once you've determined how to cover your immediate needs in the event of the layoff, it's often best to take a pause and reassess before jumping right back into the job search.
Being laid off can give you the chance to be present, spend time with loved ones, and reflect on what you really want. You can use this time to reassess your goals, take some classes to gain new skills, and begin to build the strongest possible job application profile for the next stage of your employment journey.
FAQ: What is layoff survivor guilt or layoff survivors' syndrome?
While layoffs impact laid off employees most severely, co-workers and other departments also take a hit. Layoffs can place a heavy burden on those who remain, and layoff survivors report lower morale and significant damage to their own productivity. Surviving employees feel "layoff survivor guilt", or emotions of remorse and sadness after a layoff.
Five steps to a strong job search
The good news is that the tech unemployment rate is only 2.0%, a slight improvement from last month and far lower than the overall unemployment rate of 3.7%.
Some laid-off tech workers report that it is harder to find a new tech job than previously — though the majority are being rehired within a few months. In the meantime, here's how to kick off your job search strong.
#1: Leverage your network
There might be a sense of vulnerability or discomfort about sharing your layoff news. But remember, being laid off is not a reflection of your performance or value as an employee. Many of the connections in your network have experienced the exact same thing in the past, and will likely empathize and want to help however they can.
You can reach out through text, email, and social media to mentors and former co-workers to ask for career advice, support, potential job leads, or references in the future.
#2: Optimize your social media usage
One way to let your network know you're open to new opportunities is to share your status on professional platforms. Here are some tips:
Update your LinkedIn profile (and other professional profiles)to list relevant skills and accomplishments, and to let recruiters know you are open to work.
Always reply to recruiter messages. It will help recruiters, because receiving a reply will allow them to get their message credits back and be rewarded by the LinkedIn algorithm. And it will help you, because they may have opportunities relevant to you now or in the future.
Ask for endorsements. Skills endorsements are an easy way for friends and colleagues to help you out, and you can also reciprocate by endorsing them in return.
Reach out to hiring managers when applying to a job with a brief message expressing your interest in the job and position. It will help you stand out from the sea of resumes and increase your chances of getting an interview.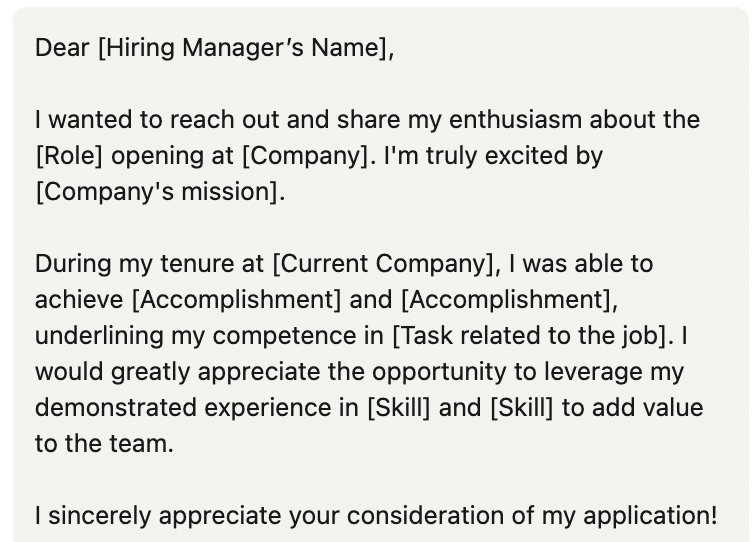 #3: Refine your resume
Here are some tips for standing out.
Bullet points make a resume scannable
Consider ditching rambling paragraphs and nested clauses in favor of succinct and readable bullet points.
No: Planned and executed the migration of the outdated legacy system onto the more modern Amazon Web Services (AWS) platform with a team of six, leveraging my knowledge in cloud infrastructure, DevOps methodologies, and project management skills, to manage and ensure a smooth transition.
Yes: Led a team of 6 to migrate legacy system onto updated AWS infrastructure
Focus on results
One common pitfall is to focus on responsibilities rather than results or achievements beyond the basic requirements of the role.
As a bonus tip, putting the accomplishment at the beginning of the sentence will help ensure the important information stands out.
No: Managed spot instances with Spot.io for cloud cost optimization
Yes: Saved 40% on AWS cost by implementing Spot.io
Don't make it too long
Don't mention every accomplishment in your academic and professional career, but tailor your CV to the achievements which are most relevant to this particular opportunity.
Depending on the career length, a typical length ranges from 1-2 pages. Exceeding this limit may put a candidate at risk of appearing out of touch with professional norms, or unable to identify key information and communicate it concisely.
Ensure resumes are ATS-friendly
With more employers than ever using Applicant Tracking Systems (ATS) to screen candidates, ensuring that your documents are correctly formatted for such systems is a must. A few quick tips include listing roles in reverse chronological order, saving the file as a pdf, using a clean and simple template, and running an ATS check before submitting your application.
#4: Find tech job opportunities
Here are the sources we most recommend for finding and applying to a new tech job.
#5: Let potential employers find you
Tired of sifting through endless job boards or recruiter messages to find your ideal opportunity? There are also services which will do all the work for you.
Celential.ai: free AI-powered job matching and referral service designed to connect tech talent to high-growth companies
Talent by Blind is a marketplace for tech talent and employers. Companies can view the profile you create and send you interview requests
Hired will connect you with tech companies, who will reach out to you with relevant roles
Being laid off from a job is tough. Do your best to stay positive, take the time you need to recharge, and keep moving forward. You've got this!